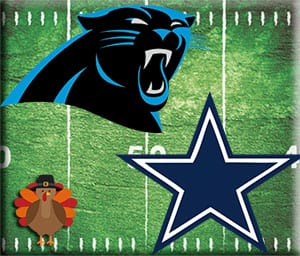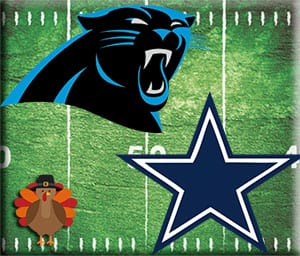 Overview
The unbeaten Carolina Panthers head into Dallas for their big Thanksgiving day matchup versus the Cowboys. The last time these two teams met was back in 2012 with the Cowboys winning that game and actually the Cowboys have won the last 5 meetings going all the way back to 2005.
Head to Head Trends
Panthers are 1-4 ATS in their last 5 meetings.
Dallas Cowboys (-1)
The Dallas Cowboys are 4th in the NFC East with just a 3-7 record but with the Giants in 1st place with a 5-5 record the Cowboys still got a chance although I think this game today is a must win if they want to at least have a chance at the post season. Tony Romo came back last week after missing the previous 7 games all of which were losses for the Cowboys. Romo isn't really all that good but he wins games, he is 3-0 on the season and if he never got injured there's a good chance the Cowboys would be in 1st place right now.
The Cowboys have averaged 343 yards and 19 points per game but again if Romo didn't miss most of the season those numbers would be a lot better. The Cowboys have however had a solid defense all season allowing just 335 yards and 22.8 points.
Dallas Cowboys Trends
Cowboys are 2-6 ATS in their last 8 games overall.
Cowboys are 5-13 ATS in their last 18 games in November.
Carolina Panthers (+1)
The Carolina Panthers are 1st in the NFC South with a 10-0 record and are tied for 1st place overall with the new England Patriots who are also unbeaten at 10-0. With all the injuries to the Patriots I think the Panthers are the best team in the NFL right now and I think they have to be the frontrunners for the Super Bowl. The Panthers have one of the best offenses in the league averaging 29.9 points per game and they also have one of the best defence in the league allowing just 322 yards and 19.1 points per game so that's a tough combination to beat.
Carolina Panthers Trends
Panthers are 6-1 ATS in their last 7 games overall.
Panthers are 18-8 ATS in their last 26 road games vs. a team with a losing home record.
Conclusion
I like the Carolina Panthers over the Cowboys in this one. You would think the Panthers would be at least a 3 point favorite in this game but they are actually a 1 point underdog. I think betting the Panthers alone is a good play but I also like teasing them with the Packers today especially if you can tease them +7.5.
Free Pick: Carolina Panthers +1