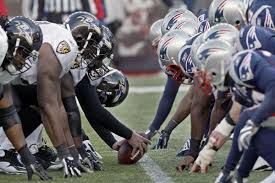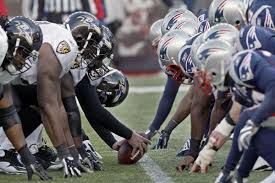 In our NFL free pick Baltimore plays New England for what looks to be an exciting and meaningful Monday Night Football game. The teams will meet at Gillette Stadium in Foxboro, MA with kickoff listed at 8:30 p.m. ET. The weather will be cold, in the low 30s, and the field will be wet. However, the rain should be over by game time. The line started with the Pats at -8.0; it's now at anywhere from -7.0 to -6.0.
The Ravens (7-5) need this win to keep up with the surging Pittsburgh Steelers. The Steelers win their fifth straight game yesterday and now have an 8-5 mark. The ravens, who have a better division and conference record, are 4-1 for their last five. After beating the Steelers 21-14 on Nov. 6 and the Browns 28-7 on Nov. 10, Baltimore lost to Dallas 27-17. Two more wins followed, as they beat the Bengals 19-14 on Nov. 27 and the Dolphins 38-6 on Nov. 4.
The Patriots (10-2) are also 4-1 for their past five. Their one loss in tht string occurred when Seattle visited New England on Nov 13. The final score was 31-24. Just prior to that loss, the Pats beat Buffalo 41-25. Since that loss to the Seahawks, they've won three straight beating the 49ers 30-17, Jets 22-17, and Rams 26-10. They are in total control of the AFC East and a win on Monday night could out them on top of the AFC.
Baltimore Offense vs. Patriots Defense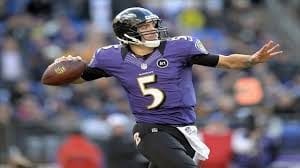 The Ravens come to this game averaging 21.3 PPG. Their average total yardage output is 363.3 YPG with 272.7 of those yards being achieved through the air. Baltimore is 16th in red zone offense, scoring 56.67% of the time. In their last three games, they've hit 77.78% and in their last one, they were good 100% of the time.
QB Joe Flacco (64.5 COMP%, 15 TDs, 11 INTs, 23 Sacks) has been playing well lately. In his last five games, Flacco has thrown 10 TDs and five picks. Flacco has four sound pass catchers to throw to, including his two top performers, Mike Wallace (57 REC, 851 YDs, 14.9 AVG, 4 TDs) and Steve Smith Jr. (54 REC, 589 YDs, 10.9 AVG, 3 TDs). RB Terrance West (163 ATT, 650 YDs, 4.0 AVG, 3 TDs) is the team's prime rusher. The ground game is not this team's strength. The frontline is adequate but could offer more protection.
The Patriots are holding opponents to 17.3 PPG, but lately their red zone defense has been spotty. The defense has done a good job forcing fumbles. They have 14 FF. In addition, the club has made 26 sacks and notched 54 PD. The team's seven interceptions are on the low side. Top performers include DT Trey Flowers (4 Sacks, 2 TFL, 1 PD) and safety Patrick Chung (73 TCKLs, 1 Sack, 1 INT, 3 PD). CB Malcolm Butler (2 INTs, 14 PD, 1 FF) is the main man in the secondary.
New England Offense vs. Ravens Defense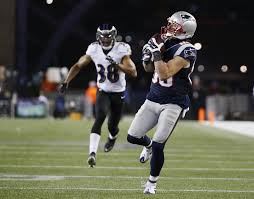 The Patriots are scoring 26.6 PPG and accumulating on average 397.8 YPG. Although they have been passing for 280.5 YPG, they also have been solid on the ground, averaging 117.3 YPG. QB Tom Brady (68.9 COMP%, 19 TDs, 1 INTs, 11 Sacks) is having a fine season. He's been accurate and focused and enjoy the protection afforded by a top O-line. The loss of TE Rob Gronkowski two weeks ago was big for the Pats.
However, they do still have a good stable of pass catchers, including TE Martellus Bennett (44 REC, 544 YDs, 12.4 AVG, 4 TDs) and WR Julian Edelman (72 REC, 718 YDs, 10.0 AVG, 2 TDs). RB James White (31 ATT, 129 YDs, 4.2 AVG, 0 TDs) is also a fine receiver. He has 47 catches for 393 yards and four touchdowns. The prime RB is LeGarrette Blount (230 ATT, 957 YDs, 4.2 AVG, 13 TDs) is having a huge season. He's been tough to stop.
The Raven defense, like New England's, is holding teams to 17.3 PPG. They will have their work cut out for them. Baltimore has 28 sacks, 14 picks, and 13 forced fumbles with eight recovered. They've also notched 54 PD and 37 TFL. Their red zone defense is 11th in the NFL at 51,72 and for the past three games it's been even tougher at 41.67%. LB Terrell Suggs (8 Sacks, 2 TFL, 3 PD, 3 FF) and DT Timmy Jernigan (5 Sacks, 4 TFL, 3 PD, 1 INT) are the leaders in sacks. Safety Eric Weddle (3 INTs, 10 PD, 1 FF) and LB C.J. Mosley (4 TFL, 3 INTs, 6 PD) are tops when it comes to interceptions.
NFL Free Pick Baltimore Plays New England
This game could come down to a field goal. Neither team has an advantage when it comes to kicking, as the Ravens' Justin Tucker and Pats' Ron Gostkowski are both premium footmen. We like the Ravens at +7.0. This will be a close game. That our conclusion regarding our NFL free pick Baltimore plays New England.
NFL Free Pick Baltimore Plays New England: Baltimore at +7.0