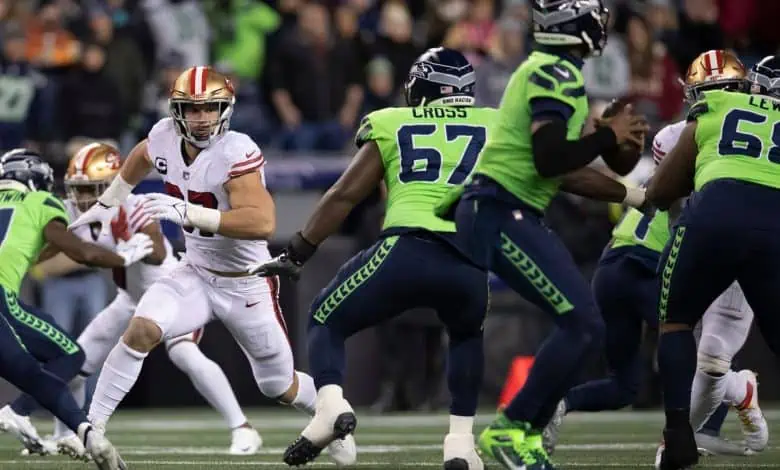 They say it's hard to beat a team three times during an NFL season, but that's what San Francisco will be trying to do in the Saturday Seahawks at 49ers betting matchup. SF (13-4) is the hottest team in the NFL with 10 straight wins to close out the regular season, and they've beaten NFC West foe Seattle 27-7 and 21-13 this year.
Seattle (9-8) has had a very surprising year considering many people picked them possibly as the worst team in the league. The Seahawks also snagged the #5 pick in the upcoming draft thanks to Denver's horrible year following the Russell Wilson trade so things are looking bright in the Pacific Northwest. Unfortunately it looks like Seattle may have to take some medicine on Wild Card Saturday as a +9.5 underdog.
Second Meeting Went Much Better for Seattle
The Seahawks rode a 6-3 start to the season to this wild card berth because they had some struggles in a 3-5 finish to the year. If Aaron Rodgers and Green Bay could have beaten Detroit at Lambeau Field last Sunday night Seattle is sitting this one out, but they couldn't and we have a solid NFC West Wild Card matchup.
It's strange that the Seahawks struggled early and then faltered late, because they really were an enigma to begin the year after cutting ties with Wilson. Geno Smith thrived in the QB role with 4,282 yards and 30 TDs, but has thrown 7 of his 11 INTs over the second half of the season. The Seahawks do look like they've found a good one in rookie RB Kenneth Walker III, who ran for 1050 yards and 9 TDS in 15 games.
Seattle lost 27-7 in San Francisco in week 2, but that was also coming off an emotional Monday night win over Wilson and the Broncos (17-16). The 49ers took a 21-3 lead early in the 3rd in Seattle, but the Seahawks made it a respectable 21-13 with two late scores but still didn't cover the +3 point spread.
San Francisco Looks Like Title Contenders
The 49ers have a complete team, with the #1 total defense in the NFL (300.6 yards/game) to go along with the #5 total offense (365.6). The trade for Christian McCaffrey to team with Deebo Samuel and George Kittle gives offensive mastermind Kyle Shanahan almost too many weapons to work with. The 49ers are 10-1 since acquiring McCaffrey from Carolina.
Really the only question for San Francisco heading into the Saturday Seahawks vs 49ers betting matchup is QB. Third stringer Brock Purdy isn't supposed to be this solid as a rookie who was picked last in the draft, but he's 5-0 as a starter after taking over for Jimmy Garoppolo, who was in turn filling in for Trey Lance.
Purdy has thrown 13 TDs to just 4 INTs on the season while posting a 67.1% completion rate. There's a chance he has some jitters in his first playoff appearance, but San Francisco is at home and he has weapons on offense as well as a defense that will get him the ball a lot.
Free Seahawks at 49ers Betting Pick
Do the 49ers get a blowout here, that is the big question. 67% of the betting public says yes but Seattle has some weapons too in Walker, D.K. Metcalf, and Tyler Lockett. Pete Carroll has been here before so this situation doesn't get to him and Smith has the type of even-keel personality you need in a game like this.
Free Pick: Seattle +9.5