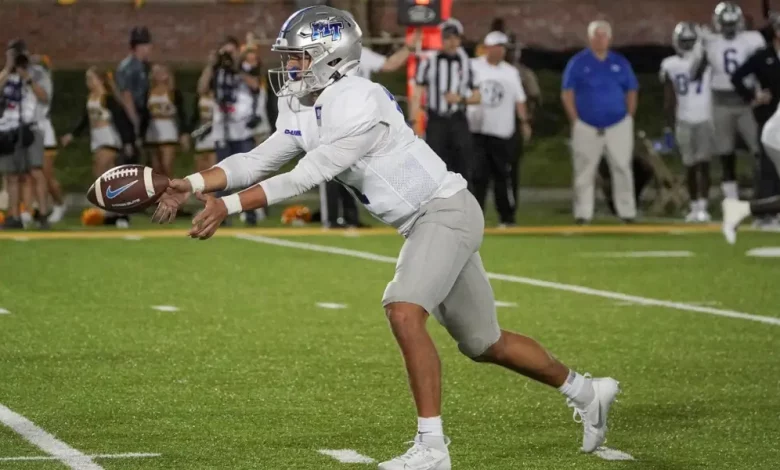 Week 6 of the college football season is actually set to begin on Wednesday night, and there will be some interesting matchups set to take place. The Jacksonville State Gamecocks visit the Middle Tennessee State Blue Raiders, and there is plenty of intrigue in this one.
Jacksonville State comes into this game with an overall record of 4-1 this season, and they have been much better than preseason expectations. The Gamecocks just picked up two huge wins on the year, and they are coming into this game with a ton of confidence.
Middle Tennessee State has gone just 1-4 through their first four games, and they need to find a way to turn things around in a hurry. The Blue Raiders have now lost two straight games, and they have struggled to play well in each of those games.
The Blue Raiders are 3.5-point betting favorites over the Gamecocks in this huge showdown on Wednesday night.
Jacksonville State Can Get Stops
The Jacksonville State Gamecocks have been terrific on offense this season, but it has been the defense that has led the way. This team is allowing just 310 yards per game, and that has allowed them to close out games this season.
Stopping the run has been a huge key to the success of Jacksonville State, as they are allowing just 113 yards per game on the ground. The Gamecocks should have another good performance in this one, and it will allow the offense to take charge.
Running back Malik Jackson has been a huge key for the Gamecocks so far this season, as he has racked up 505 yards on the ground. If the Gamecocks are able to get a lead, then they can put this game away.
Blue Raiders Need to Run
If Middle Tennessee State is going to turn things around this season, then they are going to have to find a way to run the football. The Blue Raiders have averaged just 126 yards per game on the ground, and that's just not going to get the job done.
Quarterback Nicholas Vattaiato has thrown for 1,168 yards and seven touchdowns this season, but he has also thrown four interceptions. MTSU has been too unpredictable on offense, and it has created some major issues.
The defense for MTSU hasn't been that bad this season, as they are allowing less than 400 yards per game. That unit should be able to get stops in this game, but at some point, they have to score.
Gamecocks Get it Done
The betting odds suggest that Middle Tennessee State is going to come up with a huge win in this game, but they just haven't played that well this season. The defense for the Blue Raiders has been a big problem this season, and that's going to create a challenge in this matchup as well.
Jacksonville State just won't stop running the football, and they are going to find a ton of success on the ground in this one. At some point, it's going to come down to which team can come up with a big play on offense, and it will be Jacksonville State that gets that done.
Bet the Jacksonville State Gamecocks moneyline as they are going to continue this great start to the season by picking up a win in this game.