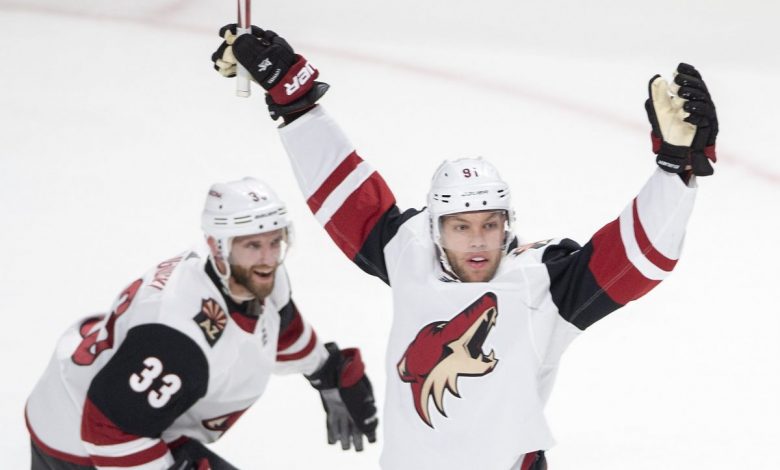 An inter-conference showdown in the desert kicks off the week of NHL action, as the New York Islanders (33-18-6) take on the Arizona Coyotes (29-24-8). This is the second meeting between these clubs this year, with the Islanders prevailing 4-2 back in October.
Here is a preview of Monday night's matchup between the Islanders and Coyotes, along with odds and a free pick.
By the Numbers
It's been feast or famine lately for the Islanders. After back-to-back wins with five goals scored in each, New York has suffered two straight shutout losses on the road to Nashville and Vegas. This season, the Islanders are 20th in goals per game with 2.86 and 28th with only 29.3 shots. Their power-play percentage of 18.6 ranks 22nd in the NHL as well.
Defensively, the Islanders are a solid seventh in goals allowed with 2.72. They also allow 31.6 shots per game, which ranks 19th, while also having a penalty kill percentage that ranks 16th at 80.1.
The Coyotes responded nicely from back-to-back losses with a 3-1 win over the Capitals, one of the league's best teams. The victory comes at a good time, as it was just Arizona's third win in their last 10 games.
The Coyotes rank 24th in goals with 2.7 on an 18th-ranked 31.3 shots on goal. Their power play also ranks 18th, converting on the man-advantage a solid 19.4 percent of the time.
On defense, Arizona cracks the top five in goals allowed with 2.66, despite allowing a fairly-high 32.3 shots per game. Their penalty kill is among the best in the league, ranking sixth at 83.4 percent, while also spending a league-low 6.6 inside the sin bin.
Who to Watch
Before the last two shutouts for New York, veteran Josh Bailey had been making his mark on the stat sheet. Bailey had a six-point, three-game stretch, which included three assists against Washington. The winger is now up to 12 goals and 25 assists and will look to reignite New York's suddenly-quiet offense.
In addition to Bailey, Jordan Eberle and Matthew Barzal are names to watch tonight. Eberle has slumped for much of the year but had goals in back-to-back games last week to give him 10 on the season, along with 20 assists.
Meanwhile, the former Calder Trophy winner Barzal had three assists against the Flyers to give him 30 helpers on the season and 48 points total.
Arizona's offense has recently been aided by a surprising source. Defenseman Jakob Chychrun is having a career year, racking up 26 points in 61 games. Over the last couple of weeks, the 21-year old has a pair of goals and four assists over his last six games, and recently had a five-game point streak. His breakout has been a big reason for the Coyotes' success this year as a whole.
Along with Chychrun, vets Derek Stepan and Olver Ekman-Larsson have found their groove. Despite putting together low numbers of just nine goals and 16 assists, Stepan does have four of the points from the last six games.
As for Ekman-Larsson, the former All-Star defenseman has returned from an injury with a pair of points in four games. The Swede now has 24 points in 57 games.
Goalies
New York is expected to go with their regular starter Thomas Greiss in net. This year, Greiss is 16-8-2 with a 2.65 GAA and .916 save percentage.
As for Arizona, the probable starter is Adin Hill. The backup is 2-3-3 with a 2.57 GAA and a .919 save percentage.
Odds and Pick
The Coyotes are slight favorites at home, listed at -120. They have played well at home this season with a 14-11-4 record, while the Islanders have been a solid road team at 15-11-2.
Both of these teams have fairly similar profiles with strong defense and mediocre offensive output. I think this will be a hard-fought game, but I like the way the Islanders were playing before the last two games. Expect the offense to bounce back a little bit and for the Islanders +105 to win this one in Arizona.