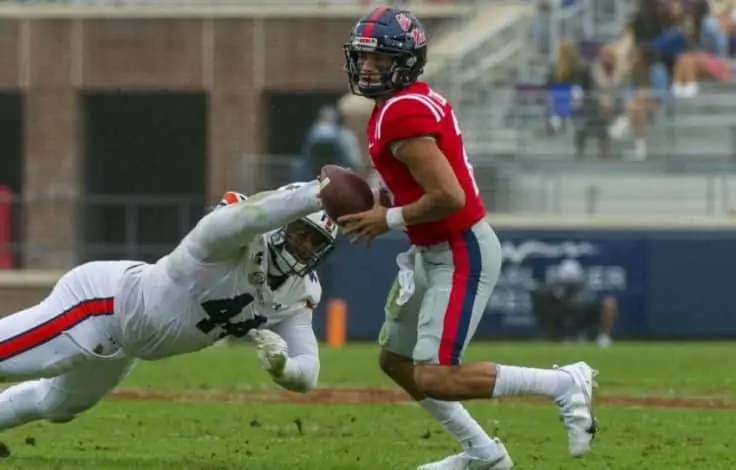 Two top 20 teams square off on Saturday night in the week 9 Mississippi at Auburn matchup. It's offense against defense as the Ole Miss team that averages 41.9 ppg meets an Auburn squad that only allows 19.7 per. The Tigers get an advantage being at home (3-1) on a Saturday night but Rebels QB Matt Corral knows how much a productive night would boost his Heisman Trophy chances.
Oddsmakers have set Auburn (5-2) as the standard -3 point favorites at home. Mississippi (6-1) has won three in a row though overall. The Tigers have won the last two meetings (35-28, 20-14) but in close matchups. Is this the year the Rebels climb over the hump even in a road game?
Another Big Night for Corral
Auburn picked up a 35-28 win in this series last year even though Mississippi was a +3.5 home favorite. The Tigers did a great job of keeping Rebels All-American QB candidate Matt Corral in check with just 154 yards passing with 1 TD and 2 INT. Corral is a year older and a year wiser though with 15 TDs to just 1 INT on the season.
The Rebels are coming into the week 9 Mississippi at Auburn matchup on a hot streak. They've rattled off a 52-51 win over Arkansas, survived 31-26 at Tennessee, and most recently upended LSU 31-17 in Oxford. That's three straight games of 30+ points for Ole Miss, but also against teams on the back end of points allowed in the SEC. Auburn is not that, giving up just 19.7 ppg which is 4th in the conference.
Another thing that makes life difficult for Ole Miss on Saturday is the fact that Auburn had last week off to game plan for Lane Kiffin's offensive attack. The last time we saw the Tigers defense in action they were giving up a 228 yard, 2 TD performance to Arkansas' KJ Jefferson while the Razorbacks also racked up 232 yards rushing on 54 carries.
Auburn Ready to Hang?
Corral and the Ole Miss offense has kept the team in every game this season save for the 41-21 loss at Alabama in week 5 as +15 point favorites. It's hard to gauge just how good Auburn is too though as their only losses have come 28-20 at #10 Penn State and 34-10 against the #1 team in the country Georgia in week 6.
Auburn had the bye last week which maybe they wouldn't have preferred after a 38-23 win over #17 Arkansas on October 16th. That was the first time in 7 tries that the Tigers have beat a ranked opponent – a trend they hope will continue against #10 Ole Miss on Saturday night.
Bo Nix kept the perpetual fan demons away for another week after his 21/26, 292 yard, 2 TD performance against the Razorbacks last time out. Nix still hasn't thrown for 300+ yards this season and has 2 INT in the last two games, but Ole Miss is also allowing 422 total yards/game which ranks them 100th in the country.
Free Week 9 Mississippi at Auburn Pick
It's #10 at #18 but it seems like Auburn thrives on these battles of ranked opponents especially at home. Nix is finding himself under center for the Tigers, Corral is tough for Ole Miss but Auburn has a great defense, and ultimately it's a Saturday night in an SEC home game. The Rebels can really prove themselves with a win here – but will they?
Mississippi 26 – Auburn 34
Free Pick: Auburn -3