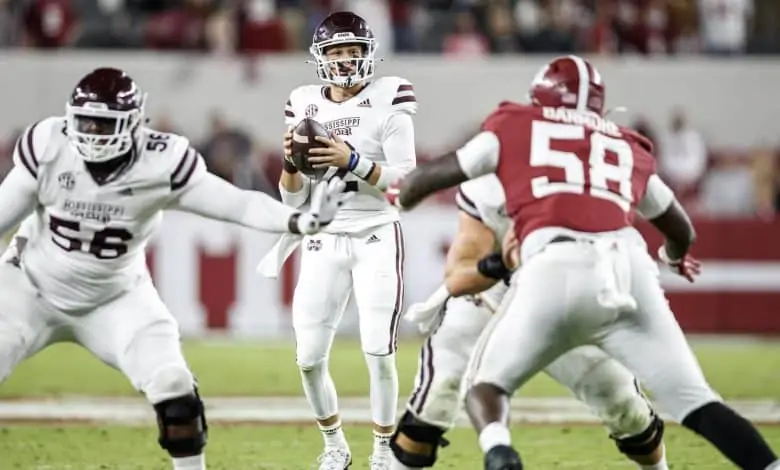 It's not very often you have to handicap the Crimson Tide after a loss, but that's where we're at heading into the week 7 Alabama at Mississippi State matchup. Nick Saban's crew had a 19-game win streak snapped last week in a 41-38 loss at Texas A&M as -18.5 favorites.
The loss has knocked Alabama from #1 to #5 in the polls and now they have to play a second consecutive road conference game and against the #1 pass offense in the SEC in Mississippi State. The Crimson Tide won this matchup 41-0 in Tuscaloosa last year as -29 point favorites, but that's when the Bulldogs were in the midst of a 3-7 conference season. MSU has played much better in 2021, but are still +17 home underdogs here.
Alabama Caught Off Guard Last Week
When you win 19 straight games and have already been anointed the 2021 champions barely halfway through the season it's easy to get complacent. That's what Alabama did last week even against a quality conference foe like Texas A&M, falling 31-28.
The Crimson Tide did have a couple turnovers, QB Bryce Young was only 28 of 48 passing, and Alabama was down 24-10 at the half but it still took a late pass interference call and a field goal as time expired for the Aggies to pull off the win. Basically – Alabama is still pretty good.
The Heisman favorite Young had his worst accuracy day (58.3%) of the year last week and threw an INT for the third straight game. Alabama still compiled 522 yards of total offense but A&M also ranks 10th in the SEC in yards allowed. Somewhat surprisingly Mississippi State has the #4 defense in the conference and even got some top 25 votes last week.
Can MSU Play Better than Last Year's Game?
There was a lot going on for the Bulldogs last season, most importantly trying to learn new coach Mike Leach's Air Raid offense but without the benefit of a full offseason due to COVID restrictions. MSU beat defending champion LSU in the opener, but things quickly went downhill as QB K.J. Costello couldn't throw the ball to the correct team and opponents just played zone since the Bulldogs had no running game.
What a difference a full offseason and a QB entering his 2nd year in Leach's system can do. The Bulldogs still have no run game (56.2 ypg) but Sophomore QB Will Rogers has shown a full command of the offense that he's ran since high school. Rogers already has more TDs this year in five games (14) than he did last year in nine games (11) and most importantly he's only thrown 2 INTs.
Rogers has also done want Alabama couldn't this year – beat Texas A&M as the Bulldogs tallied a 26-22 win in College Station in their last game. That win was on October 2nd, so Mississippi State has had an extra week to prepare for Alabama after being idle last week.
Week 7 Alabama at Mississippi State Pick
Mississippi State had the bye last week so as a team they watched Texas A&M freshman QB Zach Calzada go 21/31 for 285 and 3 TD vs. the Crimson Tide. Rogers has to be thinking, "why not me?"
Alabama's offense is probably going to get their fare share of points on Saturday because that offense is just too talented. At least the Bulldogs know they can hang with them though – maybe not to win but to at least keep this one with 17 points.
Mississippi State 37 – Alabama 41
Free Pick: Mississippi State +17