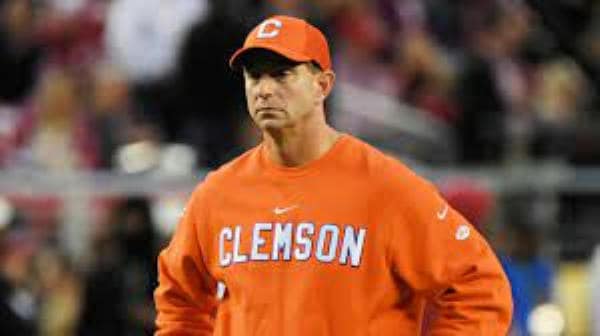 Two of the biggest enigmas in college football will be on display in the week 5 Boston College at Clemson matchup. The Golden Eagles have begun the season 4-0 after being just 6-5 in 2020 and meanwhile Dabo Swinney's team has already suffered two losses. Clemson had lost three games total in the three seasons prior.
Everybody is waiting for the Tigers breakout performance, but that's what they said last week as well before NC State pulled off the 27-21 OT win as +10.5 underdogs. BC's 4-0 record is also largely in part to their being favored in every game so far, but the Golden Eagles struggled in a 41-34 OT win against Mizzu last week.
BC Is Confident
There's almost no better time to face the Tigers than in the week 5 Boston College at Clemson matchup. Swinney's team is in disarray and the Golden Eagles had their chances last season in a 28-34 loss at Clemson as +28 point underdogs. #1 draft pick Trevor Lawrence didn't play in that game, but DJ Uiagelelei had 342 yards passing to bring Clemson back from a 28-13 halftime deficit.
BC doesn't have their QB from last years game as Phil Jurkovec was lost for the season in week 2 with a wrist injury. Dennis Grosel has filled in the last two games, throwing for just 34 yard in a 28-3 win against Temple in week 3 but going for 175 yards and 2 TD in last week's win over Missouri. BC did the best thing they could for Grosel last week by running for 275 yards.
BC's defense has a tough test on paper this week against the Clemson offense, especially knowing how Uiageleli shredded them in last season's game. The Golden Eagles have put together another solid squad on that side of the ball this season though, ranking in the top 25 in total yards allowed, rushing yards, and points against.
Will the Real Clemson Please Stand Up?
Nobody can blame the Tigers for their 10-3 week one loss to Georgia because it looks like the Bulldogs are on a fast track to the CFP. Last week's 27-21 loss to NC State was a tough one though, as Clemson hadn't lost to the Wolfpack since 2011.
NC State is a decent team that is off to a 3-1 start this year, but now the Clemson defense has just as many questions as their offense after allowing a 4 TD passing day to Wolfpack QB Devin Leary. The Wolfpack duo of Ricky Person and Zonovan Knight also added 170 yards rushing out of the backfield so BC has to have some confidence to at least cover the +14.5 spread.
Uiagelelei made the first start of his collegiate career last year vs. Boston College, helping then #1 Clemson survive in a 34-28 win after Lawrence was ruled out due to a positive COVID test. Uiagelelei had 2 TD passes and another on the ground in that game, but has just five total through four games this season. The sophomore had just 111 yards passing last week in the loss to NC State.
Week 5 Boston College at Clemson Pick
How can you back Clemson by -14.5 here? That's based on nothing that Boston College has shown (on offense at least) but moreso on what the Tigers have not been capable of this season.
Clemson 26 – Boston College 17
Free Pick: Boston College +14.5