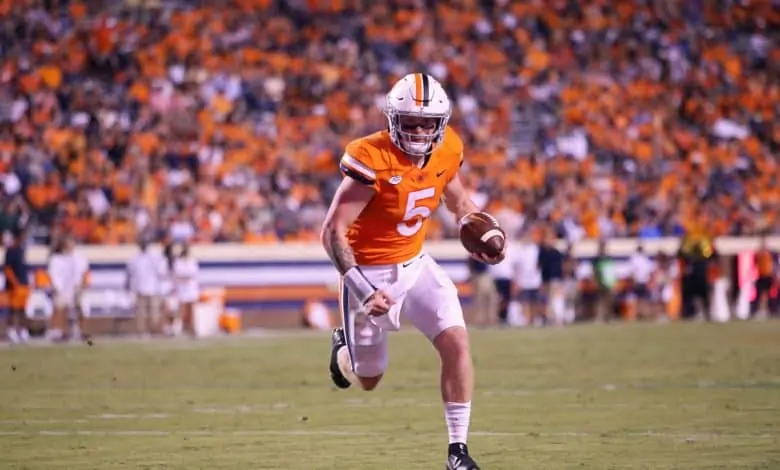 The Demon Deacons take their perfect 3-0 record on the road for the first time in 2021 heading into the Week 4 Wake Forest at Virginia betting preview. WF has used a nice balance of offense and defense to get to this point, averaging 39.3 ppg while giving up just 13.3 in wins over Old Dominion, Norfolk State, and Florida State.
Virginia is a -3.5 favorite in this matchup against an undefeated team not just because they are at home but because the Cavaliers have one of the best offenses in the country through three weeks. Brennan Armstrong looks like an early Heisman candidate after throwing for 11 TD and 2 INT in two games, making this a tough matchup for Wake's first road contest.
Wake Passed Their First Test
The Demon Deacons were just 4-4 last season, and although their 2-0 start to the season was nice it was also expected as a -33 point favorite over Old Dominion and a -43 line against Norfolk State. Wake didn't cover the spread in either of those games, but gave themselves some legitimacy in a 35-14 victory over Florida State last week at home as -4.5 favorites.
The Seminoles game is really the only one to go off of when evaluating the Demon Deacons' body of work heading into the week 4 Wake Forest at Virginia matchup. A.T. Perry had a big game through the air catching 7 balls for 155 yards, and Christian Beal-Smith ran for 95 yards on just 19 carries. QB Sam Hartman has 6 TD to just 1 INT on the year and is completing 68.7% of his passes. The North Carolina offense is a whole different animal, but they amassed just shy of 700 yards of total offense vs. UVA last week.
The Wake Forest offense will likely be fine on Friday night, but their defense is facing a huge test against Armstrong and the Virginia passing attack. The Demon Deacons did win this matchup 40-23 at home last season in week 7 as -2.5 favorites, but UVA used three QBs in that game and had three turnovers.
Virginia With More Stability This Season
Armstrong missed last year's contest with Wake due to being in concussion protocol, but he's lined up for a big night Friday after throwing for 959 yards and 9 TD the last two games. That has helped the Cavaliers to the #2 passing offense in the country through three weeks (438.3 yards/game) and a top 20 scoring offense (41.3 ppg).
The Wake defense was solid in their first matchup with a quality opponent last week, intercepting FSU's McKenzie Milton twice and forcing him to get pulled in place of Jordan Travis. The Seminoles had just 91 yards rushing on 29 carries, and that's a Florida State squad that took Notre Dame to OT in the opener.
There are some concerns for the UVA defense coming into this one, as they gave up 307 yards and 5 TD passes to Sam Howell last week and let North Carolina run for another 392 yards on the ground.
Week 4 Wake Forest at Virginia Pick
Armstrong has a complete command of this Virginia offense right now and although Wake looked great in a 17 point win over UVA last year the Demon Deacons also benefitted from 128 yards and 3 TD from Kenneth Walker who has transferred to Michigan State. The Cavs get the revenge here, especially as Wake plays their first road game.
Wake Forest 26 – Virginia 38
Free Pick: Virginia -3.5