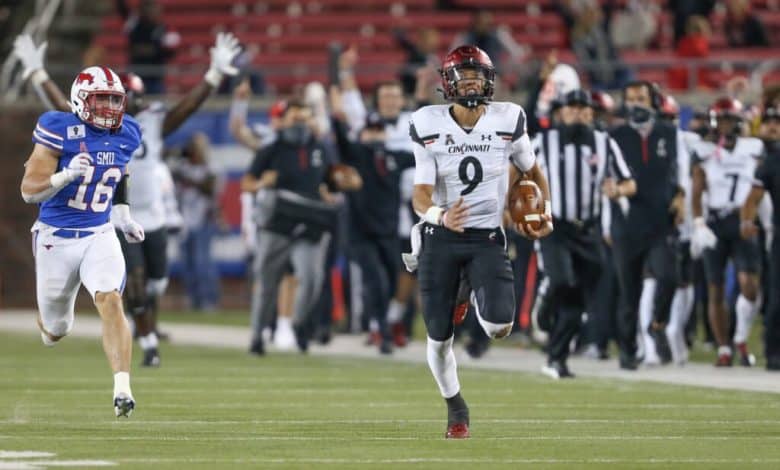 The journey continues for the BearCats at home in the week 12 SMU at Cincinnati matchup between two top 25 teams. #5 Cincinnati celebrates Senior Day on Saturday, with 32 players taking the field at Nippert Stadium for what they hope is just the second-to-last time. The BearCats (10-0) can clinch a spot in the AAC championship game with a win, and would be in line to host against Houston (10-1) depending on what happens next week.
SMU is no pushover though even after losing two of their last three. Those defeats came 44-37 against Houston in week 9 and 28-25 against Memphis in week 10 – a couple of one score games and both being on the road.
Mordecai Can Make a Name for Himself
Not that SMU QB Tanner Mordecai isn't getting the attention he deserves this year (his 3, 264 passing yards are 7th in the nation) but handing Cincinnati a loss this close to the end of the season would be national news. The BearCats haven't lost a regular season game since November of 2018, and they haven't lost at Nippert Stadium since November 10th, 2017.
Obviously Mordecai and the Mustangs have their work cut out for them in the week 12 SMU at Cincinnati meeting, especially when they lost 42-13 to UC last season at home as -1 point favorites. Mordecai has thrown for 300+ in 8 of 10 games this season, but SMU also has a productive running game behind Tre Siggers (664 yards) and Ulysses Bentley IV (517 yards).
The BearCats come into Saturday's game with the 5th best pass defense in the country, allowing just 163.3 yds/game. Cincinnati also only allows 16.2 ppg so SMU's 41.6 ppg average seems like it will take a bit of a dip in this classic offense vs. defense matchup.
Cincinnati Pushing Towards the Ultimate Goal
The only problem with Saturday afternoon's tilt being an 'offense vs. defense' showdown is that Cincinnati's offense is pretty dang good too. It's going to be an electric atmosphere at Nippert Stadium for what many fans consider the last major regular season hurdle UC has to face before another undefeated regular season (although a visit to 6-4 ECU can't be overlooked either).
Cincy QB Desmond Ridder is playing his last regular season game in front of the home fans, and is looking to finish with a 25-0 record at Nippert Stadium (with a possible AAC championship game at home looming in a couple weeks). Ridder has been a Heisman contender most of the season, and he's been incredibly efficient with a 65.9% completion rate, with 22 TD and 6 INT on the season.
Ridder also has 279 yards rushing and 5 TDs this season, but those are numbers he almost matched in the SMU game alone last year carrying the ball 8 times for 179 yards helped largely in part by a 91-yard TD. Ridder had 3 scores on the ground vs. the Mustangs, and also added 126 yards passing and another score.
Week 12 SMU at Cincinnati Pick
This game really isn't about SMU's defense stopping Cincinnati, it's about whether the Mustangs have the horsepower to keep up? There seems to be some heavy action coming in on Southern Methodist in this matchup, as the number has dropped from UC -12.5 all the way down to -9.5. Ultimately, that's too many points to give a good SMU team.
SMU 31 – Cincinnati 34
Free Pick: SMU +9.5