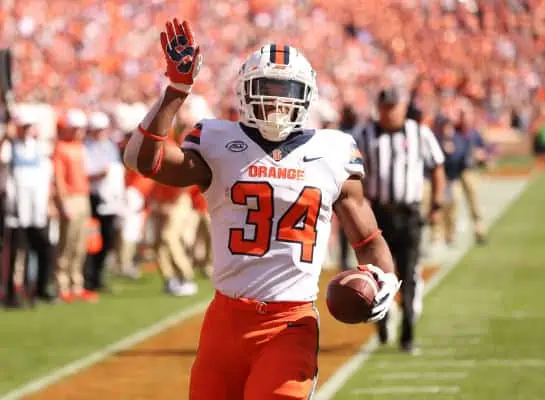 The Orange have their first losing streak of the year that they'd like to end sooner rather than later heading into the Syracuse at Pitt betting matchup. Syracuse lost at Clemson 27-21 in week 8 as +14 point underdogs and followed that up going down 41-25 to Notre Dame last week at home at +1.5.
Pittsburgh (4-4) knows that they have Syracuse in a bit of a weak spot but also that the Orange (6-2) are angry after climbing all the way up to #14 following their 6-0 start to the year. The Panthers have dropped two in a row just like Syracuse, but both in road games and at quality opponents in Louisville (24-10) and North Carolina (42-24). Pitt is a -3.5 favorite in this spot.
Syracuse Has QB Health Concerns
Suffering a couple of consecutive losses is bad enough but Syracuse got even more bad news last week with QB Garrett Shrader suffering a concussion. He was always a great runner, but had taken huge strides throwing the football this season with 14 TDs to 5 INTs after having just 9 TDs to 4 INTs last season.
Shrader's status is officially listed as questionable but it would seem risky to play a QB who runs the ball and takes a lot of hits a week after suffering a concussion. Carlos Del Rio-Wilson led back-to-back scoring drives when he entered the game last week and can only benefit from a full week of practice as the projected starter.
Syracuse has a decent running game behind Sean Tucker (756 yards, 7 TDs) but Pittsburgh also has the #4 rush defense in the ACC. North Carolina's Drake Maye threw for 388 yards and 5 TDs last week against the Panthers, but that's also a top 10 passing offense in the country.
Pitt to Run the Ball All Day?
While Pittsburgh may have had some big plans for their passing game after picking up Kedon Slovis from USC in the offseason, that really hasn't come to fruition as he has 5 TDs to 5 INTs on the year. On the bright side though RB Israel Abanikanda is having a breakout season running the ball, ranking third in the country with 1,068 yards on the ground.
Abanikanda has 127+ yards rushing the last two games and a total of four TDs on the ground but the Panthers have still lost both of those games and by an average margin of 17 points. Syracuse is just 8th in the ACC vs. the rush so Abanikanda will likely get his – but is it going to be enough?
Free Syracuse at Pitt Betting Pick
It's hard to gauge Syracuse's chances without knowing the status of Shrader, but there are many who like the upside that Florida transfer Del Rio-Wilson brings to the game. Both teams have lost to quality teams during their two game losing streak, and one of Pitt's other defeats this season was to CFP #1 Tennessee 34-27 in OT.
Syracuse is just 1-1 on the road this season, and some of their success in getting to #20 may stem from playing so many games in at home in the former Carrier Dome. It's a tough road tilt for the Orange on Saturday and you have to give Pitt and that running game the edge.
Free Pick: Pitt -3.5