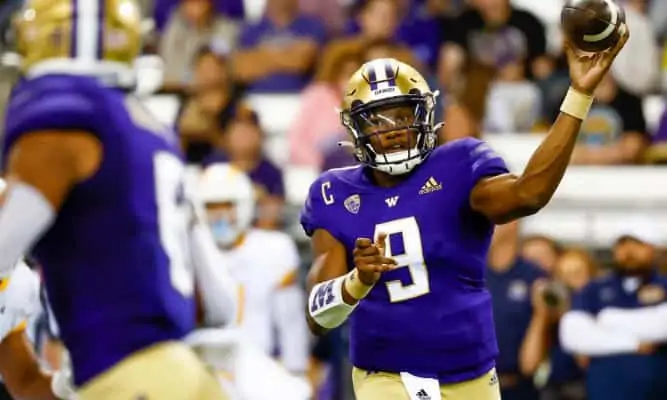 Fresh off their bye week and a berth in the top 25 for the first time in 9 years, the Beavers (6-2) still find themselves a road underdog in the Oregon State at Washington (6-2) betting matchup. The Huskies were off last weekend as well and have bounced back from their first two losses of the season with a victory over Cal in week 8.
Washington is a -4.5 favorite on Friday night as the best passing offense in the country looks to avenge a 27-24 loss to the Beavers last season that snapped a 13-game win streak in the head to head series. 52% of the betting public like Oregon State even though the line has moved two points in the opposite direction since it's WASH -2.5 open.
Gulbranson Gets Another Start
They always say you can't lose your job to injury, but Jonathan Smith is going to have tough decision to make soon if Ben Gulbranson can lead the team to a fourth straight win. Gulbranson is filling in for the injured Chance Nolan (concussion) and has 5 TDs to 1 INT his last three games.
The Beavers have a tough task in the Oregon State at Washington matchup considering they have to hand Washington their first loss at home this season (5-0). This year OSU has a close win at Fresno State (35-32), got spanked by Utah (42-16), and squeaked by Stanford (28-27) in their three road games (2-1).
The OSU defense has looked good on defense their last two games allowing just a total of 19 points The Beavers now rank 3rd in the Pac-12 allowing just 22.8 ppg, but they've also allowed 27+ in all three of their road tilts this year and the Huskies put up 40.4 ppg (10th).
Washington On the Road Back
The Huskies have two losses this season, falling 40-32 at UCLA which isn't a bad showing considering the Bruins are 10th in the nation, but also suffering a 48-35 defeat at Arizona State for Sun Devils coach Shaun Aguano's first win with the team since they fired Herm Edwards. Washington was a -13.5 favorite against ASU but at least both defeats were on the road and by one score.
After a week off the Washington offense fires things back up behind Michael Penix, Jr. who leads the nation with 2.934 passing yards and has 22 TD passes against just 4 INTs. The week 8 28-21 win over Cal as -7.5 favorites was the lowest point total of the year for the Huskies, who have scored 38+ in 6 of 8 games.
Oregon State has a top 30 running game so Washington's #21 rush defense (110.6 ypg) will face a big test on Friday night. Some of the Huskies' 256.6 ypg allowed through the air are actually to blame on their offense being so good that teams are forced to pass when facing big deficits.
Free Oregon State at Washington Betting Pick
Both teams are fresh off the bye and Washington looks to head to 6-0 at home on the season. Oregon State is trying to stay in the top 25 after getting back here for the first time since 2013. It's a huge game for both squads, but the Huskies' potential in the passing game and being at home give them the edge for a big win.
Free Pick: Washington -4.5