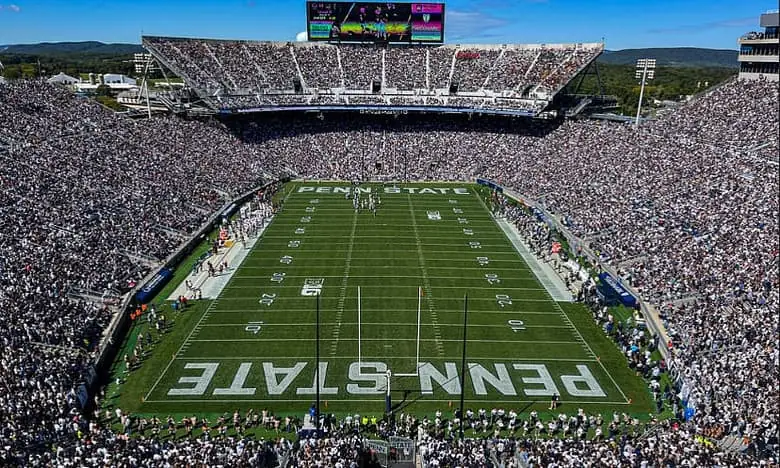 An old rivalry is revisited on Saturday night in the Week 1 West Virginia at Penn State betting matchup. WVU and PSU haven't met in over 30 years and the Nittany Lions have largely dominated this series holding a 32-2 record against West Virginia. Oddsmakers are expecting that to continue with PSU a nearly three TD favorite at home.
The Nittany Lions will have to replace their All-time leading passer Sean Clifford who was a four-year starting QB for the program, but coach James Franklin likes the upside of Drew Allar. West Virginia hasn't even officially named a QB for this matchup, so that's one more advantage to the Penn State side.
Why West Virginia Has Value in Week 1
The #1 think working in WVU's favor in the Week 1 West Virginia at Penn State betting matchup is a +20.5 point spread – a tough number to cover in the first week of the season. The Nittany Lions could be focused more on next week's visit to Illinois, who they lost 20-18 to last year in a whopping 9 OT when PSU was ranked #7 at the time.
Penn State also has to break in a new starting QB on Saturday night for the first time since Clifford took over those duties in 2019. The veteran completed 64.4% of his passes last season and had a career high rating of 150.5 which has helped him grab a spot as the Green Bay Packers backup.
J.T. Daniels has transferred yet again (Rice) so WVU will have a new starting QB on Saturday night. The odds are it's Garrett Greene that gets the nod as he played in 9 games last season, but Nicco Marchiol could see time as well.
Why Penn State Has Value in Week 1
Allar completed 35 of 50 passes last year with 4 TDs and 0 INT mostly in mop up duty for Clifford. That's not a ton of experience, but that also isn't that huge of a disadvantage considering WVU is very green at the QB position as well.
Allar may be young, but he's got a QBs best friend in a very potent running game. Nicholas Singleton returns after a 1,000+ yard rushing campaign in 2022. Kaytron Allen is back after amassing 867 yards a year ago and for good measure the team brought in Trey Potts who has started for Minnesota in the past. Olu Fashanu was also just named as a preseason All-American offensive lineman so PSU has a lot of talent.
Penn State had the #16 overall defense in the country last season, and they've got an All-American on that side of the ball as well in DB Kalen King. With West Virginia picked to be last in the Big 12, this could be a mismatch.
Free Week 1 West Virginia at Penn State Betting Pick
-20.5 is a lot of points to cover, but Penn State should be able to control the trenches on both side of the ball. The Nittany Lions should be able to run the ball at will in this game and pick up a lopsided victory.
Free Pick: Penn State -20.5