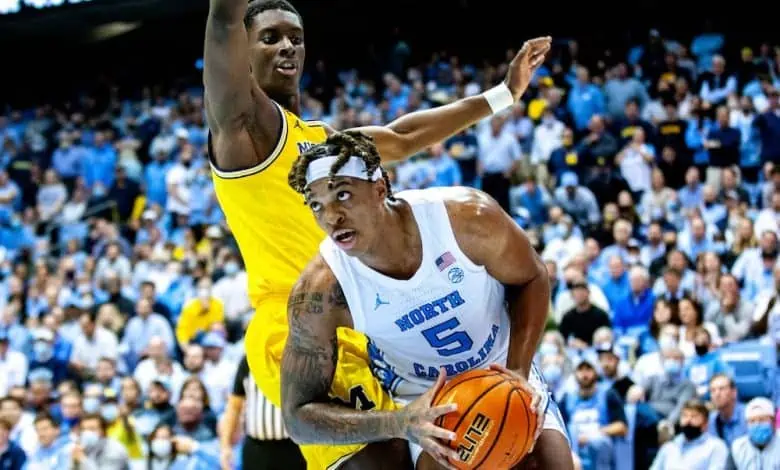 Wednesday's Jumpman Invitational is technically a neutral-site game, but the crowd in Charlotte is likely going to be very pro-Tar Heels for this Michigan vs North Carolina betting matchup. Both of these traditional powerhouses have fallen out of the top 25, but whoever wins will still get a nice nonconference resume builder.
North Carolina (8-4) is a -5.5 favorite for this meeting, most recently beating Michigan's Big Ten rival Ohio State 89-84 last Saturday. The Wolverines (7-3) went on to an 83-75 win over Lipscomb last Saturday, their first game since December 8th, but just 36% of the betting public likes UM here even getting the points.
Michigan Gets a Bad Rap
The Wolverines had gotten up to #20 in the country before getting blown out 87-62 by Arizona State in the Legends Classic as -7.5 favorites. That was easily the worst lost of the season for Michigan but ASU is also 11-1 and up to #25 in the country. UM's other two losses have come against #6 Virginia (70-68) and #19 Kentucky (73-69) both as underdogs.
All of Michigan's losses this year have come against ranked teams, but the reason they haven't been able to climb back into the top 25 – or even get votes – is because really none of their wins have been impressive. The Wolverines did kick off conference play with a 90-75 win over Minnesota, but the victory over Lipscomb last weekend came at home as -14.5 favorites.
The Wolverines can work their way back into top 25 consideration with a win in the Michigan vs North Carolina betting matchup. It's a "neutral site" but there is going to be a ton of powder blue in the crowd just two hours from the Chapel Hill campus.
Michigan Has Put Their Skid Behind Them
While Michigan fell from #20 to out of the top 25, North Carolina was up to #1 following their 5-0 start to the season. A 70-65 loss to Iowa State put a downward slide in motion as the Tar Heels went on to lose four straight.
Like the Wolverines, North Carolina's losing streak did come against good teams such as #9 Alabama (103-101), #18 Indiana (77-65), and #21 Virginia Tech (80-72). UNC has also put that losing streak behind them, rattling off three straight wins including an 89-84 OT victory over Ohio State on Saturday at Madison Square Garden when the Tar Heels were down double digits  in the second half.
Armando Bacot had 28 points and 15 rebounds to key the win over Ohio State while Caleb Love added 22. All eyes will be on Bacot (17.5 ppg/11.6 rpg) on Wednesday night in a battle of the big men against Michigan's Hunter Dickinson (19.1 points/ 8.4 rebounds).
Free Michigan vs North Carolina Betting Pick
All of Michigan and North Carolina's combined losses have come against ranked teams, so it will be interesting to see how they square off against each other on Wednesday night. North Carolina is a very experienced team, and the fact that they are playing so close to their own campus makes this essentially a home game for the Tar Heels.
Free Pick: North Carolina -5.5