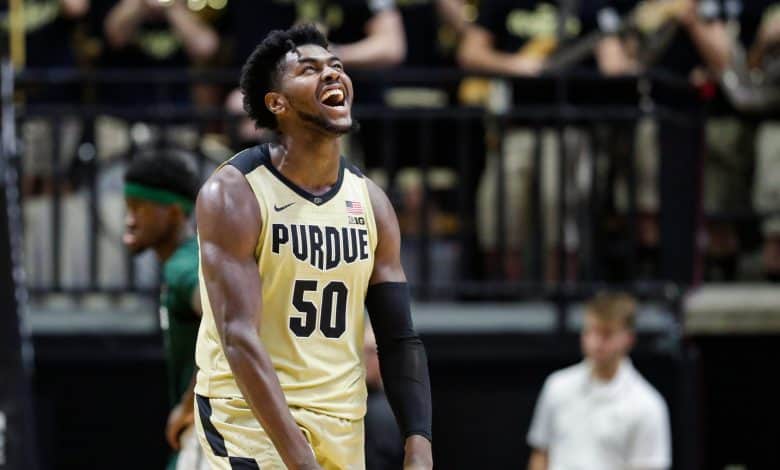 Two teams going in opposite directions face off in the March 2nd Wisconsin at Purdue matchup. The Boilermakers (16-8) and Badgers (16-9) have passed each other in the Top 25, with Matt Painter's team going to #23 with wins in four of their last five.
The Badgers are hanging on by a thread at #25, losers of three of their last four. Granted, those defeats came against #2 Michigan, #4 Illinois, and #5 Iowa. Are the Badgers good, just not that good? UW is just 5-4 on the road and they have to travel to Mackey Arena where Purdue is 9-1 on the year. More importantly, why isn't this line favoring the Boilermakers by 5 or 6 points?
Badgers a Victim of Competition?
Wisconsin looks like they're in a slump, but all four of their losses in February (3-4) came against top 5 teams. Should the Badgers have beat Michigan in the Wolverines first game back from a three week layoff (67-59)? Possibly. Could Wisconsin have played better against Illinois on Saturday with the Illini missing Ayo Dosunmu (74-69)? Of course.
Bottom line, UW might not be in as much of disarray as it seems heading into the March 2nd Wisconsin at Purdue matchup. The thing about the Michigan, Iowa (77-62), and most recent Illinois losses was that they were all in Madison. Purdue only has one loss at home this year – and that was against #2 Michigan (70-53).
So what do the Badgers do right? They do have the #1 defense in the Big Ten, and will look to slow the pace on Tuesday hence the 128.5 betting total. Wisconsin has also covered the number in 8 of their last 11 after a loss, but have also lost four straight ATS vs. a team with a winning record.
Williams Too Much for Wisconsin?
Purdue has a pretty easy game plan on Tuesday night, feed Trevion Williams on the inside. Wisconsin did a decent job against Illinois' Kofi Cockburn on Saturday (19 points, 7 rebounds) but Williams is on a roll lately. Purdue's 6'10" big man has 23+ points in three of the last six.
Much like Wisconsin's losing streak has come against Big Ten royalty, Purdue has made a living of beating up on the little guy lately. The Boilermakers' four wins in the last five have come against Northwestern, an inconsistent Michigan State, a horrible Nebraska, and vs. Penn State who has given up on the year. Their loss in that span came against lowly Minnesota who to be fair is pretty good at home.
Purdue has the 4th best defense in the Big Ten, so 60 points may win this one. The home team has won 8 of the last 10 in this series though, and they both need a win. It's looking like a true toss-up game.
Free March 2nd Wisconsin at Purdue Pick
One would think Wisconsin has a bounce back in them – but they don't. This is just a highly inconsistent team that has lost at home by 15 to Iowa recently and was stomped most of the game by Illinois without their best player. A late comeback made that 69-74 loss look closer than it was. Every time you expect a step up game from Wisconsin, they fail.
Wisconsin 61 – Purdue 69
Free Pick: Purdue -2