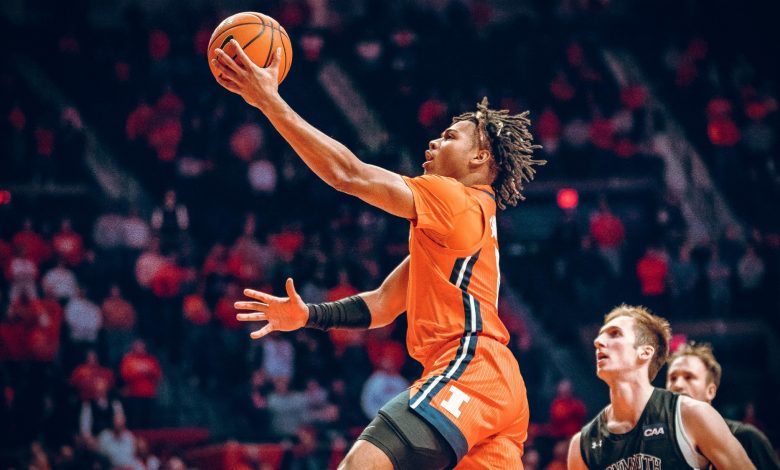 The Fighting Illini hope they can catch the home team getting a bit complacent heading into Sunday's Illinois at Purdue betting matchup. Sure the Boilermakers (25-5) would love to win one last game in front of the home fans in the regular season finale, but they've already wrapped up the Big Ten title and are looking forward to the conference tournament.
Illinois (20-10) is part of a bunched up group of teams that are 11-8 in B10 play which also includes Indiana, Northwestern, Iowa, Maryland, Michigan State, and Michigan so a win could get the Fighting Illini a double bye in the tournament but a loss could have them playing very early depending on how the rest of Sunday plays out. Purdue is a -7.5 favorite but are only drawing 42% of public betting.
Why Illinois Can Cover +7.5 Points
The main moniker behind the Fighting Illini this season is that they are a team that can beat anybody – but also lose to anybody – on any given night. The Illinois resume includes wins over then #8 UCLA (79-70) and then #2 Texas (85-78) but they've also fallen 74-59 at home to Purdue and 72-60 at Ohio State when the Buckeyes had lost 9 straight games prior.
If you get "good Illinois" then they can keep this one close and it will probably mean big games from Terrence Shannon, Jr. and Matthew Mayer. Shannon, Jr. has gone for 20+ in three of his last four including 21 in a win over Michigan on Thursday while Mayer had 24 vs. the Wolverines.
Illinois needs a big win because of the 7-team log jam for 2nd place in the Big Ten while Purdue wrapped up the conference crown last week and doesn't have a ton to play for on Sunday. The Fighting Illini have also won three of the last five in the series as well.
Why Purdue Can Cover -7.5 Points
The Fighting Illini are hoping the Boilermakers come out flat in the Illinois at Purdue betting matchup, but it is Senior Day in West LaFayette. Purdue only has two Seniors on their roster and neither are major contributors, but the last home game of the year is always special and this could also be the swan song for Boilermakers big man Zach Edey who may leave for the NBA.
The 7'4″ Edey is the main reason Purdue can cover -7.5 points on Sunday, as he's averaging 22.1 points and 13.1 rebounds per game. In his last three games Edey has posted 26/11, 26/16, and 17/19 so he's not slowing down towards the end of the year.
The Boilermakers have gone 13-2 at home this season, losing 79-71 to rival Indiana and getting stunned 65-64 by Rutgers as -8.5 favorites. Illinois has gone just 3-6 on the road, a resume that includes a 12-point loss at Ohio State, falling by 12 at Purdue, and dropping a 13-point game to Northwestern all three as favorites.
Free Illinois at Purdue Betting Pick
Purdue doesn't have much to play for and Illinois can hang close in this game the way that Shannon, Jr. and Mayer are playing lately. Edey is probably going to put up huge numbers again vs an undersized Illinois front court, but the Fighting Illini have enough surrounding pieces to at least keep this one within 7 points.
Free Pick: Illinois +7.5