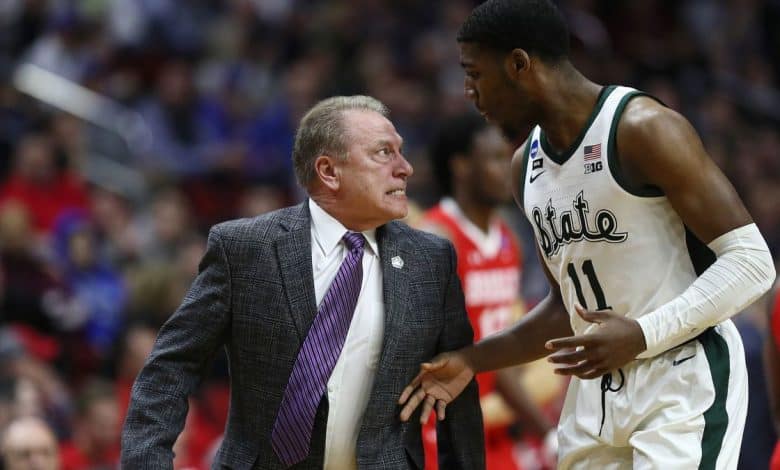 A couple of streaking teams meet up in the February 28th Michigan State at Maryland matchup that will go a long way for the winner's tournament chances. The Spartans have beaten top 5 teams in back-to-back games this week, but that's a tough stretch.
Maryland on the other hand is well rested too, riding a nice run of four wins in a row. This time of year is usually "Izzo Time" when Michigan State gets hot, but MSU is still just 3-6 on the road this season. The Terrapins are 10-5 in College Park, a big reason they are -2.5 favorites in this one.
What Does MSU Have Left in the Tank?
It's been a resume building week for Michigan State, starting with an 81-72 home win over #5 Illinois as +6.5 underdogs, led by 20 points from Aaron Henry. The Spartans followed that victory up by beating #4 Ohio State 71-67 as +4 point underdogs. Henry once again led the way with 18 points.
Both of those huge victories were in East Lansing though, and they were tough battles within the last 5 days. If the Spartans pull another one out in the February 28th Michigan State at Maryland pick they'll officially be considered for real. The Terrapins have been sitting for a week in preparation for this matchup as well.
This is somewhat of a mini-tournament for the Spartans, playing all those games in a short time with each one being do-or-die in a way. The wins over top 5 teams were great, but Michigan State also has two meetings with #3 Michigan to close out the season. Sunday's meeting with Maryland is a must-have.
Can Maryland Stop Red Hot Henry?
The Terrapin's biggest objective vs. Michigan State is controlling Aaron Henry. The forward has hit 18+ in three straight to fuel the Spartans winning streak. Maryland has the unit to do it, ranking 3rd in the Big Ten allowing just 65.3 ppg.
Maryland's four game win streak has included two victories against Nebraska, and a home win over a Minnesota team that is horrible on the road. Last Sunday's 68-59 win at Rutgers as +4.5 underdogs was impressive, but the RAC isn't as rowdy without fans in attendance this season.
The Terps will try to slow the tempo on Sunday, because they are also the lowest scoring team in the conference with just 69.7 ppg. Eric Ayala and Andrew Wiggins are still significant offensive threats though, with Ayala pumping in 24 points in one of the wins over Nebraska and Wiggins has 20+ in two of the last three.
Free February 28th Michigan State at Maryland Pick
The big question coming into Sunday's game is if Michigan State is due for a letdown? That's a tough gauntlet to have just run through, especially when Maryland has been sitting idle for a week.
Both of MSU's big wins this week were in East Lansing, and Maryland seeks some retribution after dropping two straight at home in the head to head series.
Maryland 74 – Michigan State 69
Free Pick: Maryland -2.5