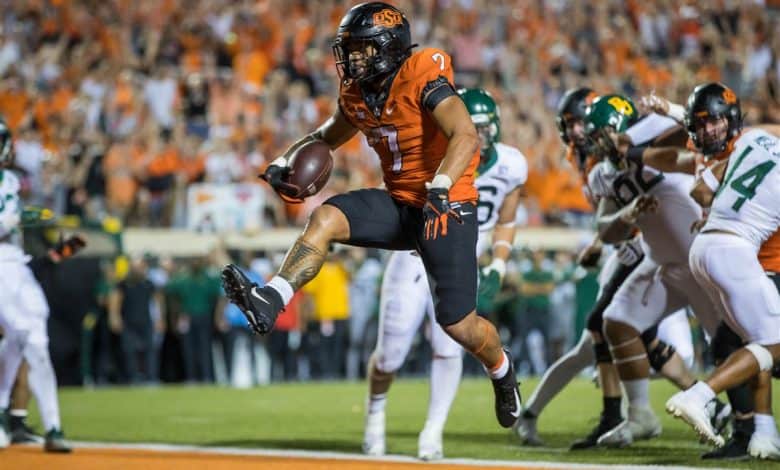 #9 Baylor and #5 Oklahoma State get set to square off in the 2021 Big 12 Championship Game betting matchup in Arlington, Texas. Obviously taking home the conference crown would be a big accomplishment for both squads, but for OSU a win could mean a berth in the CFP for the first time in school history.
Even 10-2 Baylor would have an outside chance at the 'final four' depending on how Michigan, Alabama, and Cincinnati far in their respective conference championship games. OSU won this matchup 24-14 in week 5 in Waco, and is a -7 point favorite for the rematch.
Tough Challenge for the Baylor Offense
The Bears finished the year with three straight wins, including underdog victories over Oklahoma (27-14) and at Kansas State as well as wrapping up the regular season with a 27-24 home win over Texas Tech last Saturday. Baylor effectively ended Oklahoma's CFP chances with their week 11 win (or at least put a huge dent in them), and look to do the same against another conference foe on Saturday.
Things aren't going to be easy for BU in the 2021 Big 12 championship game betting matchup as +7 point underdogs. They're up against an Oklahoma State defense that is not just one of the best in the Big 12, but the entire nation. OSU's 16.4 ppg allowed, 281.4 total ypg allowed, and 93.6 rush yards allowed are tops in the conference and 6rh, 3rd, and 5th in the FBS respectively.
What makes the degree of difficulty that much harder for the Bears is the fact that starting QB Gerry Bohanon is questionable with a hamstring injury. Bohanon has 17TDs to 6 INT on the year, but missed the Texas Tech game with his injury. Blake Shapen filled in and went 20/34 for 254 yards and 2 TD with 0 INT.
Oklahoma State Checking One More Box
While Baylor has some question marks at QB heading into Saturday's game, the Cowboys need to avoid the letdown after an emotional win over rival Oklahoma 37-33 in Bedlam last week. That result was in doubt a bit though, with OU holding a 33-24 lead in the 4th quarter.
While last Saturday wasn't their strongest performance of the season, you have to give the Cowboys credit for showing the resilience to get the comeback win in such a high pressure atmosphere. QB Spencer Sanders had a huge 37 yard TD run in the 4th and Jaylen Warren capped off the scoring with a 1-yard plunge with 8:54 left. The OSU defense, which allowed more than 24 points for the first time this season, stepped up and held OU scoreless the last 8-1/2 minutes of the game.
The Oklahoma State defense would much rather have the dominating performance they did in the first meeting with Baylor this season, holding the Bears offense to just 280 total yards. Bohanon was just 13/27 passing in that game but Sanders was also 13/23 for 182 yards with 1 TD and 3 INT. Warren provided much of the heavy lifting with 26 carries for 125 yards and 2 TD.
2021 Big 12 Championship Game Betting Pick
It's hard to handicap this game without knowing the Baylor QB situation. If Shapen goes, he's just a freshman facing one of the best defenses in the country. If Bohanon goes, he's possibly not 100% going against one of the best defenses in the country. Either way, advantage OSU.
Oklahoma State 36 – Baylor 24
Free Pick: Oklahoma State -7