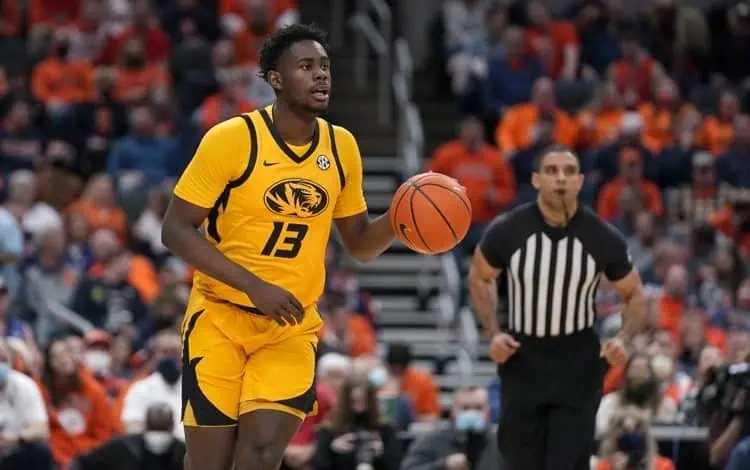 Every team in the Big 12 runs a gauntlet almost week in and week out with six schools being in the top 25 but even the bottom feeders like West Virginia and Oklahoma still being a nuisance. The Cyclones step out of conference for Saturday's Iowa State at Missouri betting matchup, but this looks like another big challenge on paper as #12 ISU (15-4) is just a -1.5 favorite against the unranked Tigers (15-5).
We don't have the typical "unranked team at home against a ranked CONFERENCE opponent" angle here, but Iowa and Missouri are still archrival states in the sports landscape. The betting public has gone all in on Mizzou, with an astounding 74% taking the +1.5.
Why Iowa State Can Cover -1.5 Points
This could be a game where you just take the #13 team in the country only having to win by a basket and not overthink things. Iowa State has suffered has suffered half their season losses in the last two weeks, but both have been very close in a 62-60 loss at Kansas and falling 61-59 at Oklahoma State to drop the Cyclones' mark to 2-3 on the road this year.
ISU might not be the best road team, but overall they have momentum after topping #5 Kansas State 80-76 on Tuesday although failing to cover the -5.5 point spread. Jaren Holmes had 23 points against K-State while Gabe Kalscheur added 19 and Osun Osunniyi 16 to give a good example of the Cyclones scoring depth.
The Cyclones are coming off one of their highest scoring games of the season, but it's actually their defense that makes this team a pretty viable play to cover -1.5 in the Iowa State at Missouri betting matchup. ISU's 59.5 ppg allowed ranks 8th in the country and their overall defensive efficiency is also 8th best in the land.
Why Missouri Can Cover +1.5 Points
The Tigers received just 8 votes to get into this week's AP Top 25, but a win over the Cyclones on Sunday will almost guarantee to up that tally. The Tigers have lost four of their last seven but three of those were on the road as underdogs against Arkansas (74-68, +7.5), Texas A&M (82-64, +5), and Florida (73-64, +5) while also losing at home to the #2 team in the country Alabama (85-64, +6) last Saturday.
Mizzou has gone 11-2 at home this season, losing to Kansas and Alabama by a combined 48 points but also beating Kentucky 89-75 as +3 point underdogs on December 28th. Saturday's game is big for Iowa State, but they could also be looking ahead to next Saturday's home game against Kansas which would be a big benefit to Missouri.
The Cyclones defense is tough, but Missouri has a top 10 scoring offense at 83.4 ppg. Kobe Brown had back to back 30+ point games against Illinois and Kentucky while D'Moi Hodge just went for 24 in Tuesday's 89-77 win at Ole Miss. Mizzou shot 16-30 from three-point range on the road in that game so if they can click like that ISU is in trouble Saturday.
Free Iowa State at Missouri Betting Pick
Both teams can light up the scoreboard, Missouri more consistently but Iowa State with some huge upside potential with Holmes, Kalscheur, and company. The main X-factor here has to be the Cyclones defense, which didn't look great against K-State this past week but was still good enough to get the win.
The betting public is loading up on Missouri – which is a good thing for the #13 team in the country having to win by just 2 points.
Free Pick: Iowa State -1.5