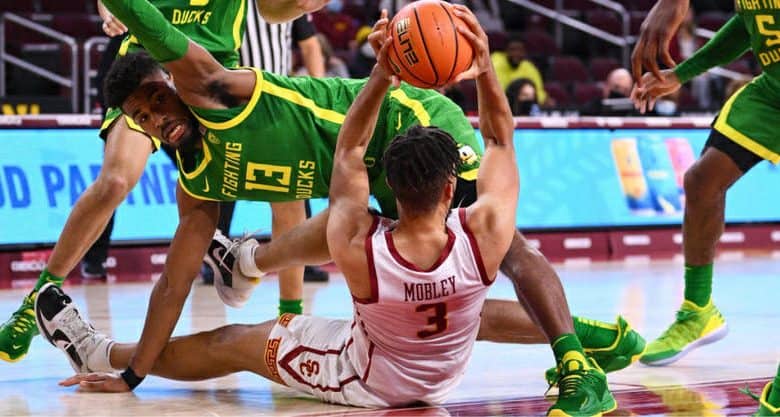 The Ducks may have found themselves some breathing room heading into the February 26th USC at Oregon betting, in regards to their NCAA tournament chances. Thanks to a solid showing in a 3-point loss at #2 Arizona and a win over #12 UCLA in their last two games OU's bubble may have subsided.. Things weren't looking good for Oregon with losses in three of four, but a win over #16 USC would all but clinch an at large bid.
The Trojans have other ideas, trying to get a victory, their 6th straight and 8th in the last 9. USC is also in a must win spot here considering they finish the regular season at home against Arizona and at UCLA. Southern Cal also wants to avenge an earlier 79-69 loss at home in January. The Ducks are -4 point favorites in this spot, already up from a -1.5 open.
USC Surviving
The Trojans were -11 point favorites on Thursday but it took all they had to get the 94-91 win over Oregon State in double OT. That was coming off a 62-60 home win over Washington State as well as hanging on for a 74-68 win over Pacific back on February 8th but as -17.5 favorites.
So although USC isn't dominating they're still winning, 7 of their last 8 now. Sure there were a couple extra frames on Thursday night, but Drew Peterson put up a solid 23/10 performance and Isaiah Mobley went for 19/10. The bigger concern is the Trojans defense that gave up 31 to OSU's Dashawn Davis.
USC is 8-2 on the road this season, but adding to the win column will be tough with the Ducks being 12-4 in Eugene. Peterson has been hot with 14+ in four straight games including two double-doubles over that span. A more consistent outing from Mobley (single digit scoring in two of last four) will have USC in line for the upset.
Oregon Can't Let Up
The Ducks seem to have punched their ticket to the NCAA tournament with Thursday's 68-63 win over #12 UCLA, pushing their percentage of making March Madness up to 79.4%. Even a loss to the Trojans in the February 26th USC at Oregon betting wouldn't be that devastating considering they are ranked.
Of course the big question for Saturday night's tilt is if we'll see the Oregon squad that hung tight with UCLA and Arizona the last two games or the one that lost 81-57 at Arizona State the game prior as -5 point favorites?
The Ducks are likely in the tournament especially if they can win a game or two in the Pac 12 Tournament, but they still would like the season sweep over USC. This is not just because these two are conference foes, but because the Trojans ended Oregon's season last year in blowout fashion getting an 82-68 win to reach the West Final in the NCAA Tournament during last year's Sweet 16 round.
Free February 26th USC at Oregon Betting Pick
Oregon can be extremely good or noticeably bad on any given night, but they seem to have turned things around a bit with two strong showings in a row. The win over UCLA could also have them setup for a letdown though, especially against a USC team that has just found a way to win recently – and has also been real good on the road.
USC 75 – Oregon 70
Free Pick: USC +4