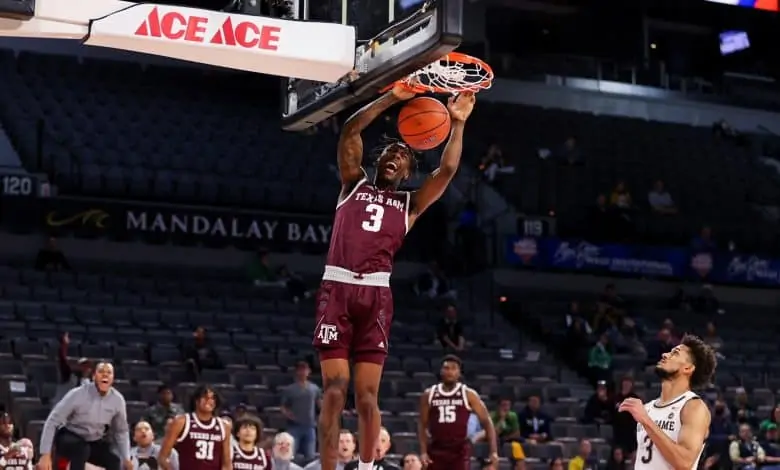 There's a strange line in the December 18th Texas A&M at Oregon State matchup as the Aggies are just -2.5 favorites on Saturday night. Sure Texas A&M is on the road, but they're also playing a Beavers squad that hasn't won since a season opening victory over Portland State.
Oregon State is on a 9-game losing streak, and even worse they've been favored in five of those losses. The Beavers are also just 1-4 at home this season and facing a Texas A&M squad that is 7-2 on the year. Saturday night's visit to Gill Coliseum is the first true road game of the year for the Aggies and Oregon State is getting some players back from health and safety protocols – but still.
Can A&M Travel Here?
The Aggies have played plenty of games away from College Station this season, going 2-1 at the Maui Invitational in Las Vegas and most recently falling 68-64 against TCU at the Toyota Center in Houston last Saturday as +2 point underdogs. The December 18th Texas A&M at Oregon State matchup is the first time going into a true hostile environment for the Aggies.
You do have to wonder just how amped up the Oregon State crowd is going to be on Saturday night though, considering morale is pretty low in the midst of a 9-game losing skid. The Aggies don't open conference play until January either, so it's not like Buzz Williams' squad is likely to be caught looking ahead in this one either.
One of the big problems with Texas A&M going on the road for the first time is that they don't really have a lot of scoring depth and in fact their 71.2 ppg is 200th in Division I. Quenton Jackson leads the team in scoring, but with just 12.6 ppg – and he's the only Aggies player that averages in double figures. Jackson also doesn't have a single game this season scoring over 20 points.
Can Oregon State Stop the Skid?
It's been a steep slide for the Beavers following their 73-64 win over Portland State back on November 9th. OSU has dropped 9 straight games since then, including some pretty ugly losses to Samford (78-77) as -13 point favorites, Princeton (81-80) as -5.5 favorites, and 71-64 to UC-Davis on Tuesday as -6 point favorites – each on of those games coming at home.
Oregon State made the Elite 8 last season, but Tuesday's loss to UC-Davis may be the nail in the coffin for this year. UC-Davis is a team that lost to Academy of Art 70-69 at the end of November, a division II school.
The loss of Ethan Thompson (15.6 ppg) who is in the NBA G-League definitely hurts the Beavers this season, but they also return three of their top four scorers overall from last year's Elite 8 squad. Warith Alatishe (11.4) and Jarod Lucas (10.6) are the only Beavers players averaging in double figures though so Saturday's meeting could be ugly offensively for both teams.
December 18th Texas A&M at Oregon State Pick
There's something off with Oregon State being just a +2.5 underdog despite a 9-game losing streak. As tempting as it would be to pull the trigger on what should be an easy Aggies win, it's time to listen to the line and go with Oregon State to stop their skid.
Oregon State 64 – Texas A&M 62
Free Pick: Oregon State +2.5