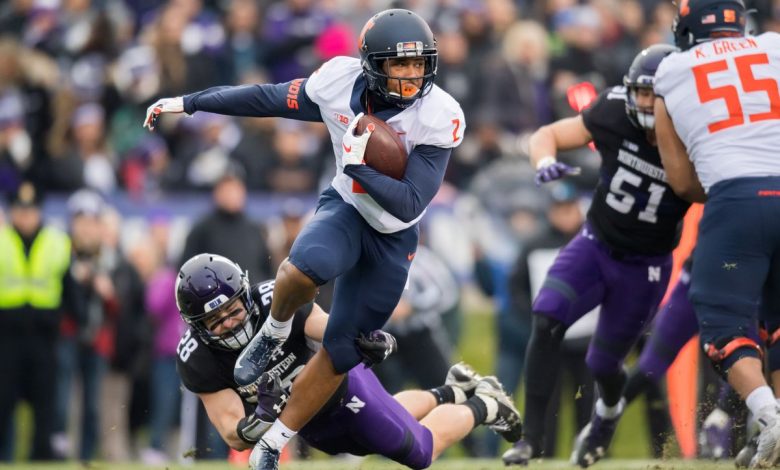 It's Senior Day in Champaign for the NCAA week 14 Northwestern at Illinois free pick. The Illini will be celebrating a group that has posted the biggest upset (vs. Wisconsin) and largest comeback in school history.
With a win over in-state rival Evanston, the Fighting Illini can also reach 7 wins, the most the program has had since a 2007 trip to the Rose Bowl. Northwestern has other plans for the sendoff however, looking to not only cover the 7.5 point spread but win their 5th straight in this series.
Can Northwestern Find Any Offense Saturday?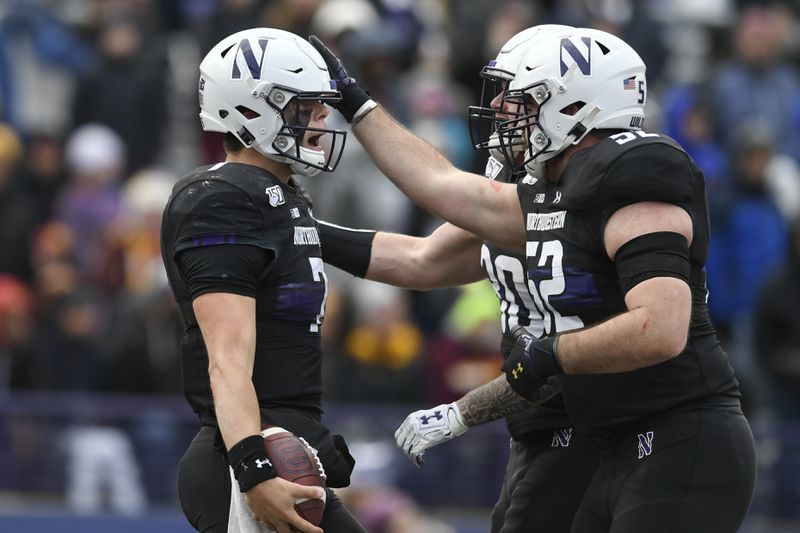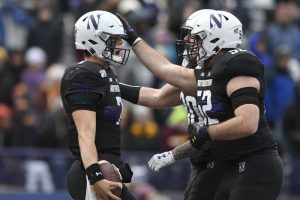 The Wildcats have been a hard watch on offense for most of the second half of the season. There was a three game stretch in mid to late October where Northwestern put up a total of 6 points against Ohio State, Iowa, and Indiana. The points have been a bit better as of late, but the offensive stats have not been.
Northwestern lost for the 8th time in their last 9 games last week, falling 22-38 to Minnesota. Scoring 3 TDs was kind of amazing considering the Wildcats had just 223 yards of total offense and were 8-12 for 95 yards from Sophomore Andrew Marty in the passing game. Marty could get his first career start in the NCAA week 14 Northwestern at Illinois free pick. Can Lovie Smith throw together a scheme to confuse the young signal caller?
Marty replaced injured Hunter Johnson last week and injuries are definitely a name of the game for Northwestern. RB Isaiah Bowser has missed the last four games but the Wildcats have found some bright spots in his absence. Freshman Evan Hull ran for 220 yards and 4 TD in the win vs. Massachussets – but he will sit vs. Illinois to preserve his redshirt status. That loss is a big blow vs. an Illinois defense that played very physical last week in holding Iowa to 79 yards rushing on 32 carries.
Illinois Tries to Finish Regular Season Strong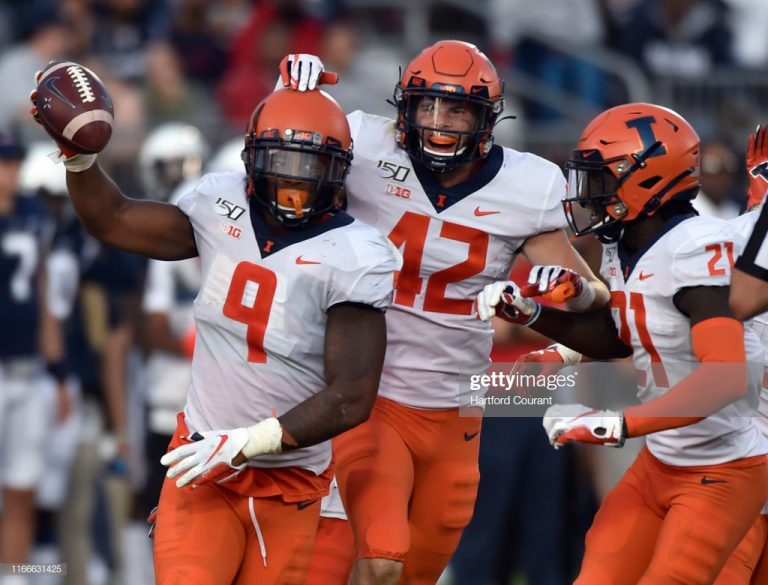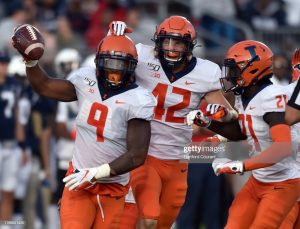 It's been a remarkable 5 weeks for the Fighting Illini football program and one that likely saved Smith's head coaching status. Illinois upset Wisconsin as +28.5 home underdogs which got the ball rolling from there. The Illini rolled over Purdue and Rutgers, then had an amazing comeback from a 21 point deficit in the 3rd quarter in a win over Michigan State. Even last week's game was winnable, with Illinois ultimately falling 10-19 at Iowa.
Illinois will have a huge edge on defense today as they lead the country with 27 takeaways. Not only is Northwestern likely going with a QB in his first career start, there's an 80% chance of rain in Champaign with wind gusts up to 20 MPH. That doesn't do any favors for the Illini offense either of course, especially with starting QB Brandon Peters missing the game after suffering a concussion last week. Backup Matt Robinson has at least played in 5 games this season.
Illinois is going to rely on it's running game regardless as Sr. Reggie Corbin needs 156 yards to move into 11th in the school's all-time rushing list. Dre Brown had 67 yards on the ground and has an 18 carry, 131 yard day under his belt a couple weeks ago against Purdue which gives Illinois great depth in the weather.
NCAA Week 14 Northwestern at Illinois Free Pick
The Wildcats are up against it today. They are on the road, in inclement weather, facing an Illini team that is a) celebrating Senior Day b) looking for the most program wins in 12 years, and c) trying to avenge a 4-game losing streak for the Land of Lincoln Trophy. The line has dropped from an Illinois -10 to ILL -7 but so has the total (44.5 to 39.5) which may be due more to the weather than performance. Smith's team by a TD is doable today.
Pick: Illinois Fighting Illini -7