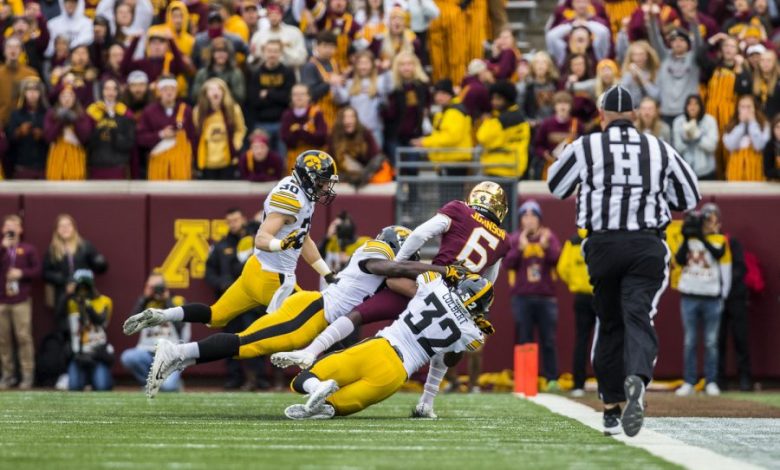 Despite the Golden Gophers being undefeated and up to 8th in the FBS playoff rankings they are +3 underdogs in the NCAA week 12 Minnesota at Iowa free pick. It's true that P.J. Fleck's team may be in a letdown mode after an emotional win against Penn State a week ago, but this sure looks like a team of destiny. The Hawkeyes are great at being spoilers at home though, is this why the line favors Iowa on Saturday?
Minnesota Keeps on Rowing the Boat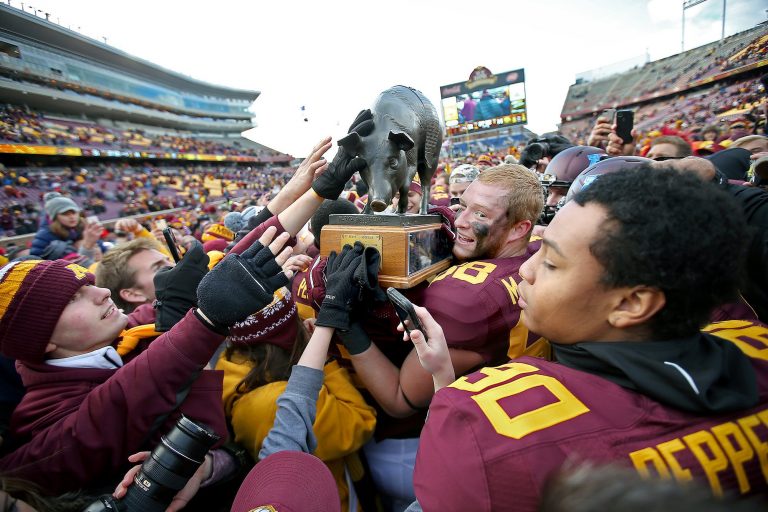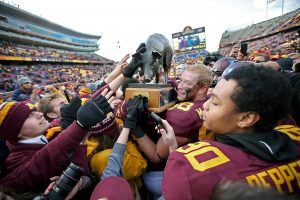 What you like about the visitors in the NCAA week 12 Minnesota at Iowa free pick is that the Golden Gophers seem to be getting better as the season progresses. They are 8-0 now, but Minnesota had to come from behind facing 4th quarter deficits in all three of their non-conference wins to start the season. There was even some doubt about the legitimacy of Minnesota's record as they had also faced backup QBs in all 5 Big 10 games.
The reason that over 60% of public bettors like the Golden Gophers in the NCAA week 12 Minnesota at Iowa free pick is because they proved themselves last week. Yes it was at home and in the biggest game in the program's modern era but Minnesota ran roughshod over #9 Penn State 31-26 as +6.5 underdogs. Tanner Morgan was efficient as always going 18/20 for 339 and 3 TDs. Minnesota has an NFL caliber wide receiving duo in Rashod Bateman and Tyler Johnson who combined for 14 catches and 307 yards vs.the Nittany Lions.
The Golden Gophers also feature 3 capable RBs in their backfield for a truly diverse offense. The Minnesota defense bent at times last week giving up 518 yards to Penn State – but Iowa doesn't have near the caliber of offense as James Franklin's squad. Iowa has been held to 22 points or less in 4 of their last 5 and is also starting to face some questions to their vaunted defense. All good things for Minnesota in this one.
Iowa Ready to Break Hearts?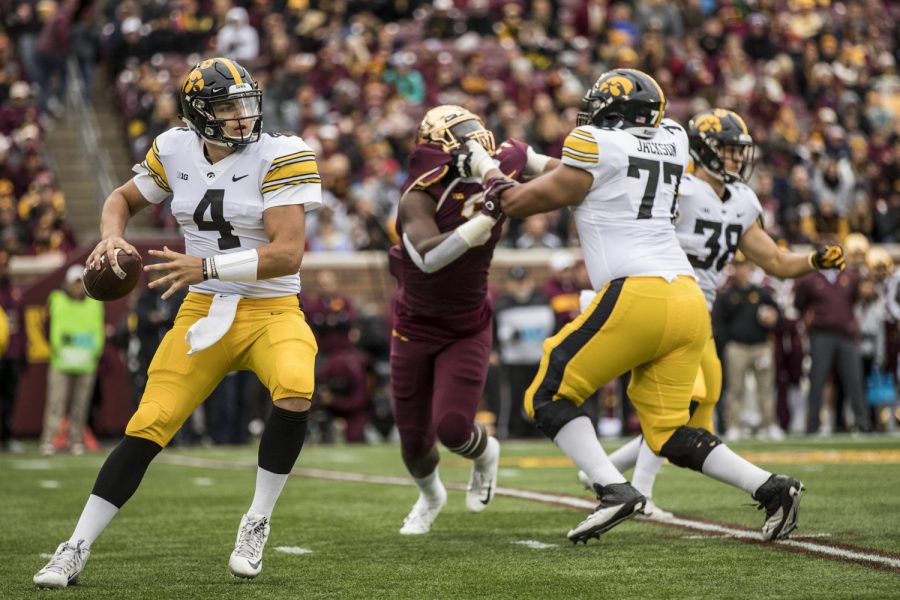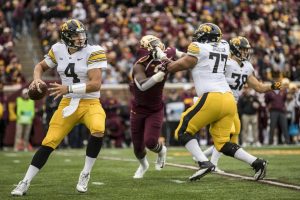 Some bettors might wonder why Minnesota, in the midst of such a magical season, are underdogs Saturday? Well, there's a lot working against the Golden Gophers in this one, specifically that they haven't won in Kinnick Stadium in 20 years. The Hawkeyes have won 14 of the last 18 vs. the Golden Gophers and Iowa has held Floyd of Rosedale since 2014. Iowa has also gone 4-1 vs. top 10 opponents at home in games played after October 30th. Remember the helping of heartbreak Kirk Ferentz's team served up to Ohio State in a 55-24 blowout in 2017?
Despite everything working against them, there are still reasons to like Minnesota in this one. For one, the Golden Gophers have one of the most efficient and balanced offenses in the Big 10 and is up against an Iowa defense that was just bowled over for 300 yards rushing last week vs. Wisconsin. The battering that the Badgers supplied last week has to have lasting effects coming into Saturday's huge matchup with Minnesota.
There's also a lot of factors going on Iowa's side for this matchup besides all the recent success they've had against Minnesota. The Hawkeyes have 3 losses on the year, but they've come in a 3-10 game at Michigan, 12-17 at home vs. Penn State, and 22-24 last week at Camp Randall – all one possession games. The Hawkeyes also beat Minnesota 31-48 last October in Minneapolis when Iowa QB Nate Stanley threw for 4 TDs. The Golden Gophers are much improved – but are in another tough Saturday afternoon road tilt.
NCAA Week 12 Minnesota at Iowa Free Pick
How do the Golden Gophers respond when basically every game over the last month of their season is one of the most important in school history? It starts with having faith in Fleck, a great leader of men that knows he has the program in an almost once-in-a-lifetime situation. Despite the chain of command though, Minnesota is just a talented team – especially on the offensive side of the football. Morgan doesn't make mistakes and the Gophers just have too many weapons here…and are also a team of destiny.
Pick: Minnesota Golden Gophers +3