NBA Picks
Portland Trail Blazers at Brooklyn Nets Betting Preview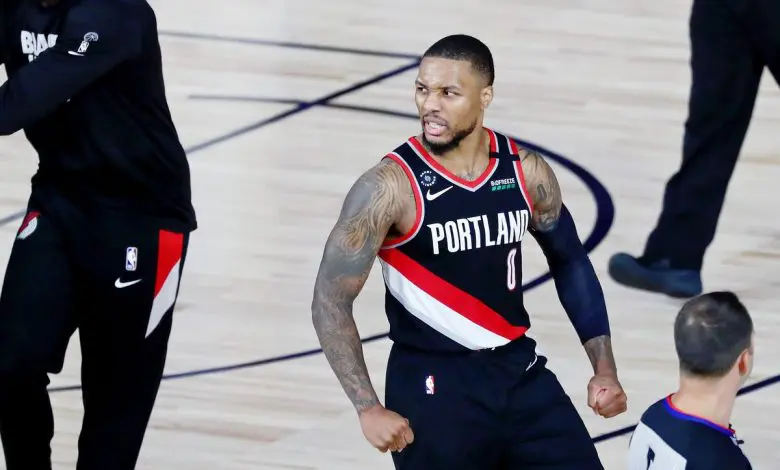 On Thursday, the Portland Trail Blazers (34-39) battle the Brooklyn Nets (35-36), with Portland's playoff hopes still on the line. The Nets have already punched their card to the playoffs while the Trail Blazers currently own a half-game lead over three teams for 8-seed.
Thursday night's contest will be the final regular-season and is essentially a must-win for Portland. Tipoff for the nightcap is set for 9 pm EST on TNT inside ESPN's Wide World of Sports Arena. According to oddsmakers, Portland is a -9 point favorite in the showdown.
What to Know – Portland Trail Blazers
Damian Lillard missed a game-tying, 3-pointer in the closing seconds of the Trail Blazers loss to the Los Angeles Clippers last week. Since then, Lillard has scored 51 and 61 points (tying a career-high) in a pair of Portland victories that have put Portland in a position to print their ticket to the playoffs. Portland has gone 5-2 inside the Orlando bubble, and a victory Thursday night would cement them as the 8-seed.
Lillard's offensive outburst has pushed his season average to a career-high 29.8 points per game. Since the restart, Lillard is pouring in an eye-popping 37 points on 48 percent shooting (80-of-165) and 41.9 percent from the arc (36-of-86).
Veteran Carmelo Anthony has contributed to the Trail Blazers' recent uptick in scoring, averaging 22.3 points over the last three contests. CJ McCollum, who is playing with a fractured back, has also scored in bunches since the restart, averaging 19.4 points a game.
What to Know – Brooklyn Nets
Like Portland, Brooklyn has also been excellent since the NBA resumed play going 5-2 over seven games. The Nets have nothing to play for in this contest, with the 7-seed already locked up and no opportunity to push further up the standings.
Four of Brooklyn's five starters sat out in Tuesday's win over the Orlando Magic. Timothe Luwawu-Cabarrot paced the reserve bunch scoring 24 points in the victory. Rookie Jeremiah Martin came off the bench to pour in a career-high 24 points in just his eighth game of action this season.
There has been no word on how many starters will sit for Thursday night's final regular-season contest. However, if recent trends continue, you can expect that a couple of key players will not play or have limited action in the game.
The Pick is In
Like we stated, this is a must-win game for the Portland Trail Blazers. Lillard and company are riding a two-game winning streak that has helped keep them in the playoff picture. Brooklyn has been playing their reserves recently, with success, but the motivation is not there for the Nets.
These two teams met just once prior this season, with Brooklyn winning, 119-115. We don't think that is going to happen in this one, we like Portland -9 to make a statement with the hottest player in the NBA.