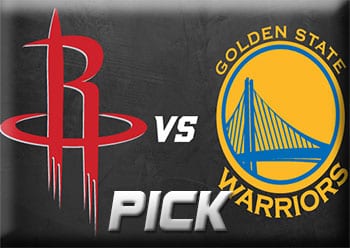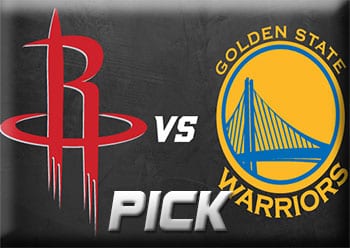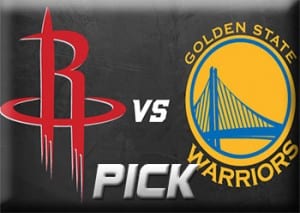 Dwight Howard returns on Friday night, as the Houston Rockets try to bounce back from an odd loss to the Denver Nuggets and take down the rival Golden State Warriors. Stephen Curry and co. will have other ideas, but there's no doubt the Rockets are stronger with Howard down low and Houston will also be all the way up for a rematch of last year's Western Conference Finals.
Matchup History
Houston and Golden State met in the NBA playoffs for the first time in history last year, and while the Warriors took the series (4-1), the Rockets still gave them a good fight in a few of the games. More importantly, they didn't let Golden State sweep them, and for a team that was down Patrick Beverley, Donatas Motiejunas and didn't have a healthy Dwight Howard, that was something for the Rockets to hang their hat on. Of course, that's about all the Rockets have to hang their hat on in recent memory when it comes to this series, as Golden State won all four meetings last year and has won the past five contests – not including the playoffs. Including the playoffs, however, the Warriors are 9-1 against these Rockets straight up in the last 10 meetings.
While Golden State is the defending champ and the clear favorite, there is an extra inner-rivalry embedded in this showdown, as Stephen Curry won the MVP last year and James Harden has been quite public about his belief that he was robbed of the award. That back-and-forth matchup should rule the first game of this year's series.
Warriors Preview (-1.5)
The Warriors don't need to be backed much by an argument. They're still the best team in the NBA until someone takes them out, while they looked as good as ever in a Tuesday night win over the Pelicans. Going on the road and taking down the Rockets is another story, though, and they'll have to do so without head coach Steve Kerr (back) and center Andrew Bogut. With Dwight Howard healthy and the Rockets eager to pay the Warriors back for their recent humiliation, Golden State could be looking at a tough out on Friday night.
Rockets get Dwight Howard back (suspended for opener) while Warriors will miss Andrew Bogut (Concussion). Rockets open as -1.5pt favorites

— warriorsworld (@warriorsworld) October 30, 2015
Rockets Preview (+1.5)
Golden State is not an easy matchup, but the Rockets got reinforcements this summer by bringing in star point guard Ty Lawson, while a healthy Dwight Howard makes them a real problem. This game is at home and should help the Rockets a bit, while simple revenge and hate alone could have them coming out and playing excellent basketball. We know Houston can match the Warriors offensively and James Harden will be fired up, but their shaky defense could continue to be an issue. In their last five meetings (all Warriors wins), Houston has given up 100+ points to Golden State four times. The only time they didn't, the Warriors still scored 98 points.
The Pick
Golden State is narrowly favored and rightfully so, as they're on the road without their main center but still are the defending champs and have owned this series. I definitely fear Houston's desire to get back at the Warriors, while it's also tough to imagine the Rockets dropping to 0-2. However, Golden State has proven time and time again that they're the better team in pretty much every aspect and they win games by adapting to opponent's strength or enforcing their will when they feel like it. If the Rockets do manage to slow the Warriors down, Golden State's defense can still win this game. If it's a shootout, Houston will have trouble stifling The Splash Brothers when the game starts winding down.
Houston could absolutely win, but they don't seem to have it all together yet. They certainly didn't in an ugly loss to the Nuggets and if they don't have their best ball tonight, they're not beating the Warriors.
This is going to be a great game, but I'll take the Warriors (and the spread) extending their winning streak to 6 in a row over Houston.  Currently the spread is -1 at BetOnline.