NBA Picks
NBA Pick: Golden State Warriors at Los Angeles Clippers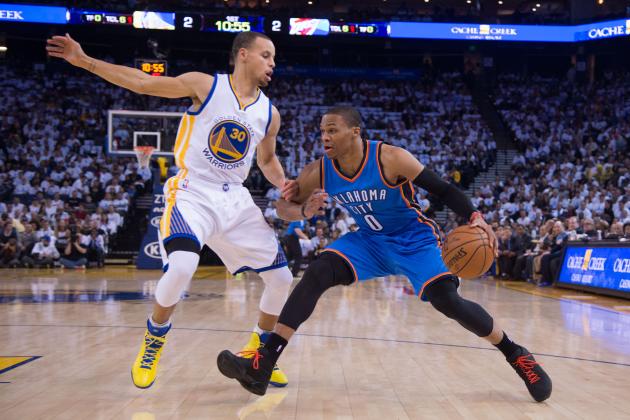 The NBA boasts just four games on Saturday night, but the biggest one without a doubt goes down in Staples Center between the Los Angeles Clippers and the visiting Golden State Warriors. Golden State will come in hungry after getting thrashed by the Trail Blazers in Portland, while a Blake Griffin-less Clippers squad seeks redemption for two early-season defeats. Jeff Green was also recently acquired in a trade and will make his Clippers debut, potentially giving L.A. a solid boost on offense.
Jeff Green is excited to be a member of Clipper Nation:https://t.co/VXdjLgEdny pic.twitter.com/cxGoWo47k7

— LA Clippers (@LAClippers) February 19, 2016
Matchup History
The Warriors and Clippers have a pretty strong history as dueling residents of the Pacific Division in the Western Conference. The two teams have met 204 times in the regular season, with the Warriors carrying the substantial edge, 119-85. They've also clashed in the playoffs for one series, with the Clippers winning, four games to three. Golden State has the recent advantage, as they're up 2-0 in the season series this year and have won seven of the last nine games. Saturday's game will be in L.A., where the Warriors have won two straight but are just 2-4 in their last six trips.
Warriors Preview (-5)
Golden State's first appearance after the All-Star break did not go as planned, as their defense could not slow down Damian Lillard (51 points) en route to a crushing 137-105 loss in Portland. As ugly as that was, the Warriors still have just five losses on the entire year and come in completely healthy. Stephen Curry and Klay Thompson still produced in the loss, combining for 54 points. They've had good luck against the Clippers and this is a matchup that should benefit Golden State – especially with Griffin sidelined. The Warriors come in hot overall on the year and have a hold over L.A. winning the last two games this year and the last four meetings, overall.
Clippers Preview (+5)
Los Angeles has done a fantastic job despite Blake Griffin missing a lengthy amount of time with hand and quad issues, and they come in hot as winners of 8 of their last 10 games. They haven't had the best of luck against Golden State specifically lately, but each of their last three defeats against the Warriors have been tight, high-scoring battles decided by 7, 4 and 4 points. The Clippers have been at their best at the Staples Center (18-8) this year and sport a strong offense (104 points per game) led by Chris Paul, J.J. Redick and DeAndre Jordan. All three will have to be clicking at an extremely high level to get the upset, but with the Warriors' current loss rate, the odds do appear to be against them.
The Pick
The straight up pick is Golden State, without a doubt. They have to be embarrassed after getting smoked by an inferior team last night, they have beat the Clippers in four straight and they have lost just five times all year. They're almost certainly going to bounce back and beat the Clippers tonight. That being said, Los Angeles hates the Warriors, are at home and have really come together and played extremely well in the absence of Griffin. With two of the last three games being decided by just four points, I like L.A.'s chances to keep things interesting.
The Warriors are going to win tonight, but I like the Clippers to beat the spread.