NBA Picks
NBA Pick: Dallas Mavericks at Houston Rockets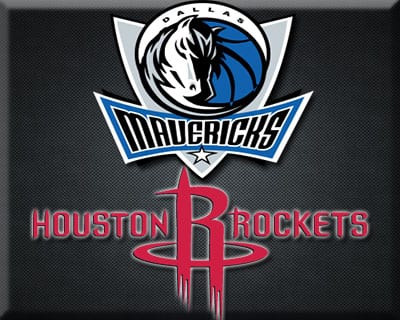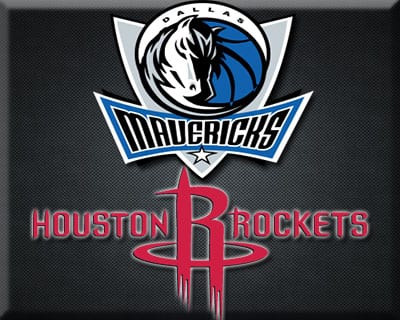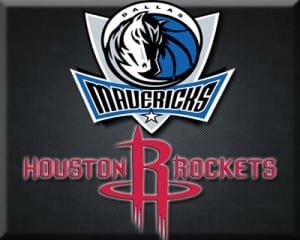 Fans get to enjoy a potential offensive explosion on Sunday night, when the Dallas Mavericks visit Texas rivals, the Houston Rockets. Both teams are currently in the surprisingly weakened Western Conference playoff picture, but get together for a game that could push one or the other down and also carries extra steam as a divisional clash.
Matchup History
The Mavericks and Rockets both hail from the competitive Southwest Division in the Western Conference, so it shouldn't shock anyone that this is a very storied history with 165 regular season game matchups and another 16 clashes in the playoffs. The teams have been very competitive in post-season play with an 8-8 split, and really just as competitive overall with the Rockets holding a mild edge during the regular season with an 85-80 record. The two have gotten together two times already for the 2015-16 NBA season, splitting the series 1-1 thus far with both teams getting road wins. Dallas has a chance to extend the road team's success on Sunday night and if they can do it, it'd actually end up being the fourth straight time where they road team won. Houston has had more straight up success overall recently, however, winning five of the last seven regular season games and knocking out Dallas in last year's playoff meeting.
Mavs Preview (+1.5)
Dallas is the understandable underdog in this one, as they've mildly regressed over their last 10 games (just 5-5) and could be without both Dirk Nowitzki and Zaza Pachulia. That would be a massive hit to their scoring, rebounding and toughness down low, as Nowitzki has enjoyed a vintage season as a scorer and Pachulia has been quite a nice surprise on the glass and as a hard-nosed defender. Both could be out for the Mavs tonight, however, which puts added pressure on scoring trio, Deron Williams, Wes Matthews and Chandler Parsons. Parsons probably won't mind hoisting a few extra shots, however, as he could have a little revenge on the brain when he returns to Houston – the team that originally drafted him. While it's tough to write off the Mavs, they've been super pedestrian (12-12) on the road. Playing in Houston without a healthy lineup could be enough to hand them their second straight loss.
Urgent Alert: Dwight Howard out Sunday https://t.co/HBUq8wBdUa

— RotoGrinders (@RotoGrinders) January 24, 2016
Rockets Preview (-1.5)
Houston will be a tad depleted down low on Sunday, as center Dwight Howard figures to miss a second straight start due to an ankle ailment. That may not be a major issue for the Rockets, however, as the Mavs are also beaten up when it comes to their top bigs and Houston also just added some depth by trading for Josh Smith. Clint Capela and Terrence Jones ate up plenty of minutes in their last game (a win), too, so for the short-term the Rockets probably should be fine. James Harden figures to shoulder more of the scoring load once again, and that's been largely working out over the past couple of games. Harden's had great success against Dallas during his time in Houston, and already this year is averaging over 25 points in two meetings with the Mavs. If Harden can come out hot and Dallas is down either one of their top two big men, the Rockets would likely live up to their title as "favorites" on the night.
The Pick
Everything points to a Houston win, as the Rockets stepped one game over .500 with their last win and could push themselves to 24-22 on the year with a big divisional win tonight. This win would go a long way in giving them a chance to creep past the Mavs in the division/playoff standings, as well, so this looks to be a huge game for both sides. One key things that plays to Houston's advantage is how the Mavs struggle on the road usually and the Rockets have without a doubt been better on their home floor (14-11) this year. They're still a very bad defensive team and taking Howard out of the lineup can make them even worse, but just for Sunday they might be the better team.
In basically a picke'm, I'll take the Rockets to win straight up and cover at home.