NBA Picks
NBA Betting Pick: Houston Rockets at Golden State Warriors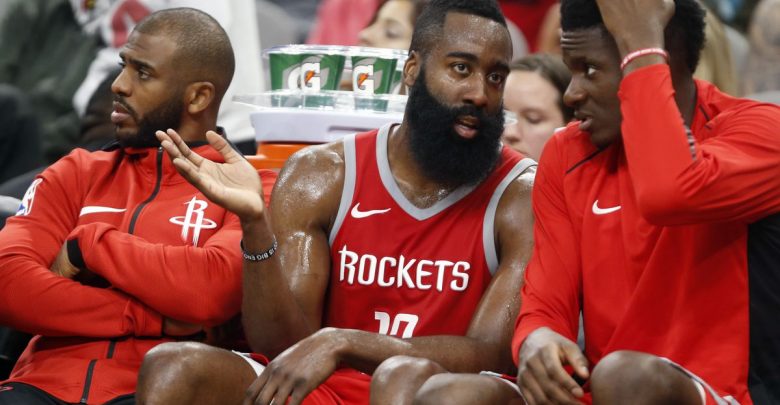 The Golden State Warriors will host the Houston Rockets in a rematch of last season's Western Conference Finals. Three of the top five players in the world will be on the floor for this game, and there should be plenty of offense. Houston blew out the Warriors earlier this season, and you can expect Golden State to be out for revenge.
Golden State comes into this game having won two straight games after an up and down few months. The Warriors sit in first place in the Pacific Division with a 25-13 record. Houston is also hot, winning their last five games, and ten of their last eleven. The Rockets are 21-15 on the season and lead the Southwest Division by just one game. Golden State is -8.0 over Houston in this game.
James Harden Putting Up Record Numbers
MVP James Harden is putting up ridiculous offensive numbers of late. Harden has scored at least 40 points in each of his last four games. He also joined Kobe Bryant and Michael Jordan as the only two players in over 30 years to score at least 400 points in a 10-game span. Harden hasn't had much help on offense for much of the season, but he is good enough to lead the Rockets to a victory on most nights.
Houston is averaging just 109.9 points per game this season, which is below league average. The Rockets are attempting over 42 three-pointers per game, but aren't making them with enough regularity. Houston was a real threat to the Warriors last season, but they will need more scoring to get to that level again. Center Clint Capela is having a nice season, averaging 17.0 points and 12.5 rebounds per game.
Warriors Offense Looks Fixed
Golden State has looked out of whack for much of this season, but their offense appears to be figuring it out. The Warriors put up 132 points in their most recent victory, and are averaging 115.8 points per game on the season. Golden State remains the top passing team in the league, dishing out 28 assists per game. Despite all of their struggles this season, the Warriors still look like the team to beat in the Western Conference.
Stephen Curry and Kevin Durant appear to be battling for the role of top dog on the Warriors. Curry is averaging a team-high 28.7 points per game this season while making over 45 percent of his three-point shots. Durant is right behind Curry at 28.5 points per game, while also grabbing 7.5 rebounds per game. The Warriors still need Klay Thompson to find his shooting stroke again, but Durant and Curry are almost impossible to stop.
Golden State Wins Shootout
The Rockets felt like they were the better team a season ago, but they still must prove it in the playoffs. Houston dominated the Warriors in the first meeting of the season, but you can expect things to be different at Oracle Arena. The Warriors looked beatable towards the end of 2018, but they are off to a red-hot start in 2019. This should be a very high scoring affair, but the Warriors will pull away from Houston. Bet the Warriors -8.0 over the Houston Rockets.