NBA Picks
NBA Pick: Chicago Bulls at Cleveland Cavaliers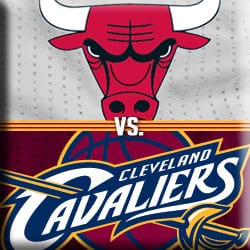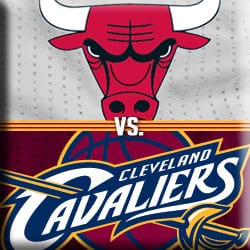 The Chicago Bulls head to Quicken Loans Arena on Saturday night, as they prepare to take on a Cleveland Cavaliers team going through a bit of a face lift. The Cavs switched head coaches a day ago, yet will have to host a good Bulls team that is still trying to climb to the top spot inside the Central Division. Taking down the Cavs in a period of transition would go a long way in accomplishing just that.
Matchup History
As residents in the Central Division going back to the 1960's, there is obviously a rich history between the Bulls and Cavs, with these two Eastern Conference rivals squaring off 200 times in the regular season and an additional 34 times in the playoffs. Chicago won the only meeting fairly easily this year, but did so at the United Center. Cleveland has otherwise held the upper hand in this series, winning last year's playoff clash, as well as three of the four regular season meetings during the 2014-15 NBA season.
Bulls Preview +11
Chicago seemed to be finally finding their identity with new head coach Fred Hoiberg only a week ago, but they've since lost center Joakim Noah to a shoulder injury and just haven't been themselves during a rough 4-6 run in their last 10 games. Chicago has been mostly fine with 101 points per game, but it's the defensive side of things where they've been lacking, as they give up over 101 points per game, as well. Jimmy Butler had brought his game to a whole new level but recently has been bogged down by injuries and could be wearing down already. Chicago will certainly hope that's not the case on Saturday, when he'll be tasked with slowing LeBron James down on the road.
Cavs Preview (-11)
Cleveland is not a bad basketball team in any regard, as they have a trio of superstar offensive players and a solid supporting cast. That combination has helped them to an Eastern Conference best 30-11 record, as well as a commanding lead over the Bulls in the Central Division. James hasn't been as dominant as expected and the team seems to be touch and go with how they feel about Kevin Love, but the Cavs have otherwise been quite good. Apparently they weren't good enough, however, as losses to the Spurs and Warriors last week may have fueled a major chance, with the team firing head coach David Blatt and transitioning full-time to assistant coach, Tyronn Lue. Whether or not the switch to Lue does the trick and turns a championship contender into title favorites remains to be seen, but we'll get our first look at any new chances when the Cavs host the Bulls tonight.
The Pick
Even with the change, it's hard not to notice these teams are trending in very opposite directions. Chicago has struggled lately and without Noah now has no true defensive stopper inside the paint. That could end up being a huge problem down the road, while it will be interesting if we see that become a larger problem right away in this Saturday night matchup. The other issue is Chicago's tough and go offense on the road against a sound Cleveland defense that allows opponents just 95 points per game. The Cavs also are borderline unbeatable at home, as they enter tonight's divisional clash with a 16-2 mark at Quicken Loans Arena this year.
I like the Cavs straight up because they simply don't lose at home, but an 11-point line is quite staggering between two quality rivals. I expect the Bulls to keep it tight and beat the spread.