The 2015-16 NBA season has finally arrived, as some huge names hit the floor on Tuesday to start their journey of proving they can win it all. A year ago the Golden State Warriors came virtually out of nowhere to win the NBA Finals with a rookie head coach and a roster full of inexperienced players. Many young teams loaded with star players will dream of doing the same, while LeBron James will aim again to do what he has failed to do with the Cavaliers twice now: win Cleveland it's first NBA title.
While the Cavaliers are the heavy favorites to win it all this year, they probably have to be at full strength to make that happen. They won't start at that point, as LeBron James enters Tuesday night with a back issue (although he'll play and he says he's fine), and Kyrie Irving remains on the shelf as he continues to rehab following knee surgery.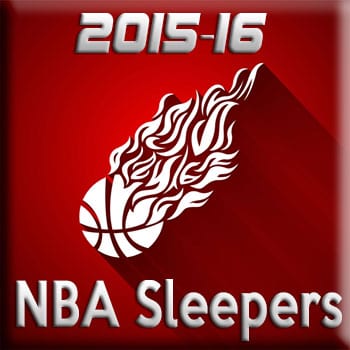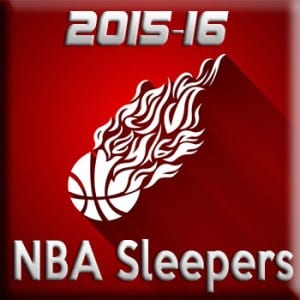 Cleveland will probably end up winning their first NBA championship this year. But the Warriors could easily repeat, the Spurs could threaten now that they're fully loaded and you also have numerous worth while contenders like the Bulls, Wizards, Clippers, Thunder and Rockets.
And then you have your sleepers. Hey, if the Atlanta Hawks and Golden State Warriors can both rise from oblivion to post the best records in their respective conferences, we absolutely need to be on watch for the next team on the rise. But who could surprise this year? Let's take a look:
Detroit Pistons
Detroit starts off the list as a team that is definitely getting closer to the playoffs and maybe could think about a serious run. It's tough to buy that with them being out of the post-season picture for so long, but all of the necessary elements are there. Reggie Jackson has the makings of a star point guard and Brandon Jennings gives Detroit an awesome change-of-pace option off the bench, while Marcus Morris and Ersan Ilyasova give the Pistons two of the more versatile forwards in the game. The unleashing of center Andre Drummond is what it's all about, though, as Stan Van Gundy's best teams thrived on big men who could draw the defense's focus to give space to shooters. Detroit finally has the talent in place to help Drums and with Greg Monroe gone, the paint is Drummond's to dominate on both sides of the ball. Now it's up to him to take his game – and the Pistons – to the next level.
Utah Jazz
Title winners thrive on defense and that's the one thing we know for sure we're getting with this Jazz team as they're currently constructed. Rudy Gobert anchored a nasty defense during the second half of last season and that figures to be the case yet again during the 2015-16 NBA season. There is a big question mark at point guard with Dante Exum done for the year with a knee injury, but Trey Burke hypothetically can man the lead guard spot, while guards Alec Burks and Rodney Hood rotate at the two spot. Derrick Favors should continue to offer stellar two-way play, too, while swing man Gordon Hayward could be one step closer to superstar status. Utah isn't yet a real title threat, but the evolution of their defense and the young talent they have on their roster suggests they could be inching closer to returning to the playoffs for the first time since Jerry Sloan roamed the sidelines.
Indiana Pacers
The Pacers dumped Roy Hibbert and let David West go, officially turning the page on their old, aging defense and opting to go smaller and faster. Paul George is closing in on his old stardom, while the addition of Monta Ellis, Chase Budinger and Jordan Hill give Indy some extra spark on offense. There could be a challenge in figuring out the roles at the four and the five, but chatter of George manning the power forward spot could give the Pacers a totally different look and feel. More specifically, this team has transformed into one that can mold itself to fit any matchup, and that could be a bad thing for the rest of the league.

Milwaukee Bucks
Winning it all might be a little overly ambitious for these young Bucks (pun intended), but with Jason Kidd's leadership and the pieces to play elite defense consistently, it might not be as far-fetched as it would have been a year ago. Milwaukee transformed from the league's worst team to a playoff resident in just one season and going into the 2015-16 season they'll have confidence and a new masher down low to feed in Greg Monroe. Development is the key, as young guards like Michael Carter-Williams, Khris Middleton and Giannis Antetokounmpo have shown major promise, and if they can take the next step, the Bucks could be a real problem in a weak Eastern Conference. Jabari Parker storming back from knee surgery could be the cherry on top.
Phoenix Suns
A year ago the Suns were just another young team trying to compete for a low playoff seed, but this year they might finally have the right formula to make a serious run. Whether or not Eric Bledsoe is the answer at the lead guard spot needs to be figured out, but the combo of him and Brandon Knight at least hypothetically gives them an edge on half the league. Tyson Chandler gives them the toughness and tenacity they've lacked down low, while Markieff Morris remains in town to give them a versatile scoring threat. If T.J. Warren can eventually take over the three spot, Phoenix could field one of the more dynamic starting units in the entire league.
Sacramento Kings
If there is a sleeper I like above all the rest, it's the Kings. DeMarcus Cousins gives them a bruising presence that, when his mind is right, can be an unstoppable force at both ends of the floor. Where he can take his game is the real question, and the rest could truly follow. George Karl gives Sacramento and experienced, savvy playoff coach, while the addition of Rajon Rondo could push them over the top if last season was a fluke. Rudy Gay needn't be overlooked, either, while depth additions like Marco Belinelli, Kostas Koufos and rookie big man Willie Cauley-Stein give the Kings enough off the bench (along with Omri Casspi, Darren Collison and Caron Butler) to dream big.