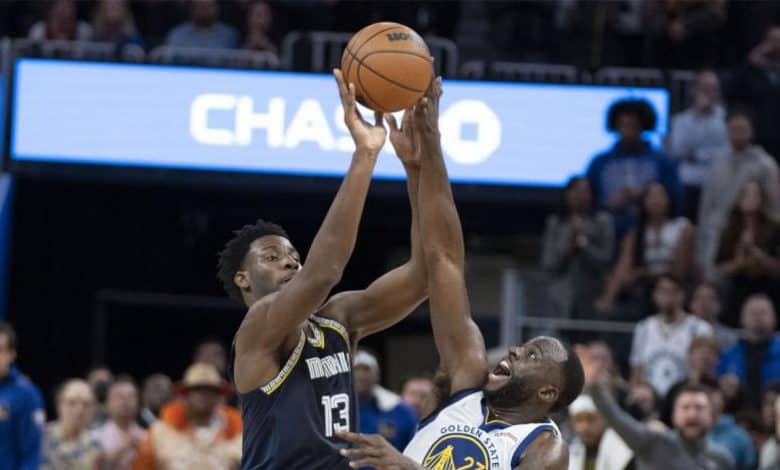 It's the first possible closeout in the 2022 NBA playoffs in the Warriors at Grizzlies Game 5 betting matchup on Wednesday night. Golden State is up 3-1 after sweeping both games in the Bay, and now head back to Memphis where Ja Morant remains out – possibly for the rest of the postseason.
The Grizzlies covered the number in Sunday's 101-98 loss as +9.5 underdogs playing without Morant. Golden State is down to a -4 point favorite back at FedExForum, and 77% of the betting public are backing the Warriors in this one. Memphis is just 3-2 at home this postseason.
Warriors Got Away With One
Memphis taking dumb shots and hitting just 9 of 15 free throws saved Golden State in a down game on Monday night at the Chase Center. The Grizzlies never trailed until the final minute of that game and had the Warriors down 12 at one point.
Golden State shot just 9-37 (24%) from three point range on Monday night and Steph Curry was just 4-14. Curry did end up being the leading scorer of the game with 32 points and the Warriors as a team hit 20 of 22 free throws which ended up being the difference maker.
The series shifts to Memphis on Wednesday night, but Golden State did squeak out a 117-116 win in the opener although failing to cover the -2.5 point spread. Curry had 24 in that game and Jordan Poole had 31 as that duo combined to go 10-22 from beyond the arc in a tough road environment.
Memphis Needs to Find the Hot Hand
There's a lot of usage opening up with Morant out of the lineup, but Memphis needs to avoid playing hero ball. The Grizzlies likely could have come back home with the series 2-2 had Dillon Brooks not decided the game was going to be won or lost on his shooting. Going 5-19 and 2-9 from three point range and ending up with 12 points from Brooks hurt Memphis more than it helped them.
If Brooks can get out of the way – or actually hit shots – Memphis should be fine in the Warriors at Grizzlies Game 5 betting matchup. With Monday's loss they are now 20-6 without Morant this season, with Jaren Jackson, Jr. (21 points) and Tyus Jones (19) both playing well on the road in Game 4.
Memphis could use a little more involvement from Desmond Bane back at home, as he has single digits in three of four games this series after going for 23+ in the last four games against Minnesota in the first round. Kyle Anderson also added 17 in Game 4, but his 2-7 shooting from the free throw line killed the Grizzlies.
Free Warriors at Grizzlies Game 5 Betting Pick
One other thing to note about Golden State's close win on Monday was that they were without head coach Steve Kerr on the sidelines after a positive COVID test. He is not expected to make the trip to Memphis so Mike Brown – the newly anointed coach of the Sacramento Kings – is at the helm once again.
Memphis is in a do-or-die situation and have actually fared pretty well without Morant this season. Hopefully Brooks read Twitter after his putrid Game 4 performance and decides to pass the ball on Wednesday night. If so, Memphis should be able to pull to 3-2.
Free Pick: Grizzlies +4