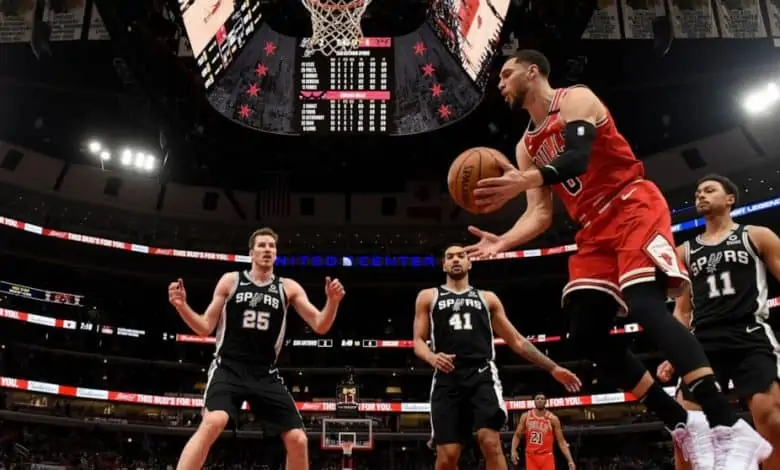 Chicago has a short turnaround heading into the March 17th Spurs at Bulls matchup, but Tuesday's 123-102 win over Oklahoma City wasn't exactly the most strenuous. Chicago has a great chance to win their third straight game, inching closer to the 8 seed in the East which they trail by 1/2 a game.
The Spurs are +1.5 underdogs on Wednesday, not horrible considering the team is without LaMarcus Aldridge while he awaits a trade and DeMar DeRozan has also missed the last three games while tending to personal matters. San Antonio has still won two of their last three, but against Orlando and Detroit, the two worst teams in the East.
Spurs Face a Challenge
San Antonio is 2-2 since the all-star break, which does include a 109-99 (-1.5) win over Detroit on Monday. It was a solid defensive outing, but the Pistons also have the 6th worst offense in the league. The Spurs have also beaten Orlando 104-77 (-7.5) since returning from the layoff, but the Magic have the 3rd worst offense in the NBA?
Could a similar poor offensive showing be awaiting Chicago in the March 17th Spurs at Bulls pick considering Billy Donovan's team is on the back to back? San Antonio plays their third straight East Coast road game on Wednesday, a trip that started with a 134-99 loss in Philadelphia even though the Sixers were playing without Joel Embiid.
If there's a spot to attack the Bulls, it's on the post but that's not a particularly strong spot for San Antonio. Chicago gave up 20 points and 16 rebounds to Thunder backup C Moses Brown on Tuesday night, so can Spurs big man Jakob Poeltl build on his 14 point, 12 rebound performance on Monday?
Bulls Depth the Key Here?
Chicago is 10-4 ATS in their last 14 playing on 0 days rest, a testament to their team depth. Getting a 20+ point win over the Thunder on Tuesday definitely helps with the fatigue, as Lauri Markkanen led the Bulls with just 32 minutes. 10 Chicago players logged at least 10 minutes in the victory over OKC.
Therefore Wednesday's game should be treated as normal rest for Chicago, especially when the Bulls are playing at home for the third straight while San Antonio is playing their third in a five game East Coast (Midwest) swing. The only problem is that Chicago is 1-4 ATS their last 5 home games, and just 9-13 at the United Center this year overall.
Zach LaVine was great vs. the Thunder, a team that for all their problems does rank a respectable 12th in defensive efficiency (Spurs 9th). LaVine had 40 points in 31 minutes, shooting a red hot 15-20 from the field. San Antonio has a top 5 defense vs. the SG however. Markkanen had 22 vs. OKC, his third time over 20+ in four games after the all-star break. Coby White and Wendell Carter, Jr. now come off the bench, former starters that give Chicago a very intimidating 2nd unit. 
Free March 17th Spurs at Bulls Pick
Chicago changed their rotation up a bit on Tuesday and it was an instant positive return with a 20-point win over OKC. This line is a bit weird as Chicago seems like they should be at least 5-6 point favorites here even on the b2b. San Antonio was dominated by Philadelphia, and their wins on this current trip came against two of the worst in the Eastern Conference.
Bulls 119 – Spurs 108
Free Pick: Chicago -1.5