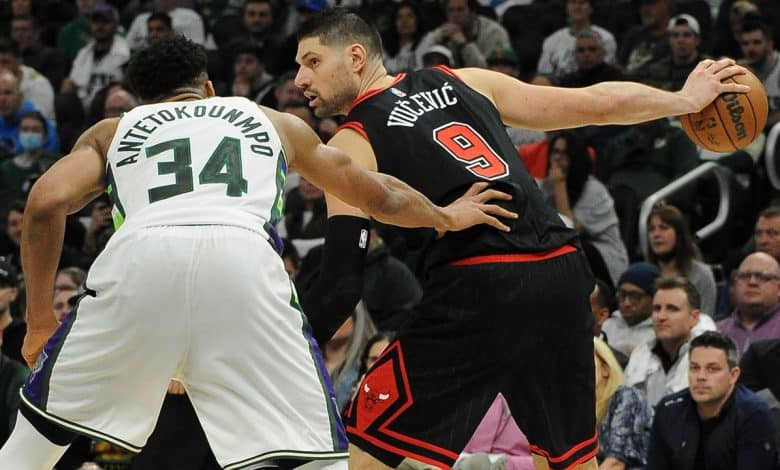 Chicago's challenge of climbing back into their Eastern Conference 1st round playoff series gets a lot tougher with Zach LaVine (health & safety protocols) and Alex Caruso both listed out for the Bulls at Bucks game 5 betting matchup. Billy Donovan's team is down 3-1, and just got blown out by a combined 54 points in the two games at the United Center.
Milwaukee would rather get this series over with sooner rather than later, because they've got a tough matchup with Boston in the 2nd round. The Celtics have already pulled off a sweep of the Nets and are now just resting and scouting. Oddsmakers definitely like the Bucks here as -12 point favorites.
Bulls a Couple Men Down
LaVine has had an interesting series, he's looked like he's still nursing a sore knee at times but has still managed to average 19.3 points, 6 assists, and 5 rebounds this series. LaVine is 42% from the floor and 38% from three point range, so that's some production that will be missed. Caruso also gave the Bulls a little bit of everything this series, dishing out 10 assists in Game 2 and hitting 3+ three pointers in Game 2 and 3 so that's a big loss too.
The obvious choice to pick up the scoring slack in the Bulls at Bucks Game 5 betting matchup is DeMar DeRozan, who has also had his ups and downs this series. DeRozan had 41 in Game 2 but has been held below 20 points in Games 1 and 3. The veteran was a combined -47 in the two games in Chicago that just wrapped up.
Nikola Vucevic has also had a strong series, especially in the two games in Milwaukee where he averaged 24 points and 15.5 rebounds. What Wednesday's game really is for the Bulls is an opportunity for their young players like Patrick Williams (20 points/10 rebounds on Sunday), Ayo Dosunmu, and Coby White to get some valuable extended postseason court time.
Bucks Ready to Move On
Chicago put up a good fight back in Milwaukee over the first two games of the series, so can they repeat that back at Fiserv Forum on Wednesday? The Bulls were down just 1 point with 1:36 left in Game 1 before a 7-point loss and then held on for a 114-10 upset win in Game 2.
The Bucks have really exerted their dominance the last two games which is why the Game 5 pointspread of -12 doesn't seem too hard for Milwaukee to cover. Game 3 was a 111-81 blowout with Milwaukee just a -3 favorite and Sunday's game was 119-95 with the Bucks just -4.
Strangely enough it's been Grayson Allen fueling Milwaukee the last two games as he's hit 11 of 14 three pointers for a 25 ppg average. Allen has fared well as Khris Middleton continues to be out with a knee sprain but he got some help from Giannis Antetokounmpo who has gone for 27+ points and 16+ rebounds in three of four.
Free Bulls at Bucks Game 5 Betting Pick
Chicago could be in trouble in this spot losing by an average of 27 points the last two games. Wednesday's spread is the highest of the series, but Chicago is too depleted and too defeated to stay in this one.
Free Pick: Bucks -12