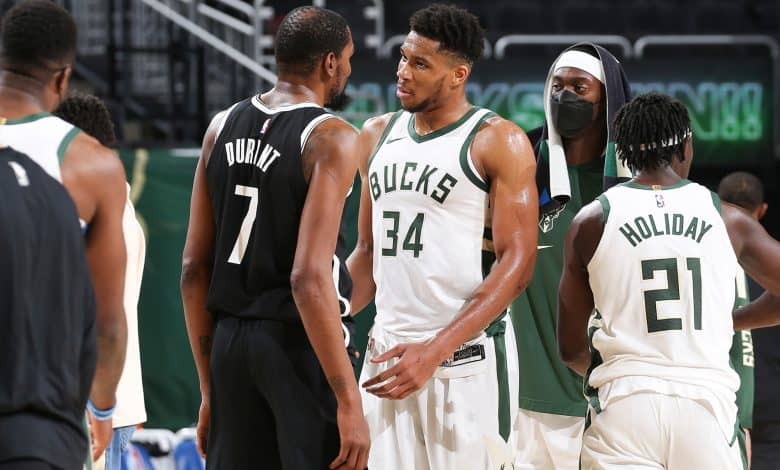 It's celebration time heading into the October 19th Nets at Bucks matchup as Milwaukee gets their rings and hoists the banner commemorating their 2021 NBA Finals win. That was the 2nd championship in franchise history but the first since 1970-71 so it's going to be a memorable evening.
Brooklyn would love nothing more than to spoil the party considering it was Milwaukee that eliminated the Nets in 7 games in the 2nd round of the playoffs last year. Oddsmakers have the Bucks as -1.5 favorites and they were 26-10 at home last season. The Nets were also 0-5 at Fiserv Forum last season which includes three playoff losses.
Nets Go Without Irving
Kyrie Irving will miss the October 19th Nets at Bucks matchup as he has been barred from team activities due to his vaccination status. That's definitely a blow as Irving averaged 26.9 ppg last season, with 6.0 apg and 4.8 rpg, but the Nets also played the last three games of the postseason without Irving who was out with a sprained ankle.
Brooklyn also still has James Harden and Kevin Durant who get a full offseason together for the first time. Durant played well against Milwaukee in the postseason, going off in game 5 for 49 points, 17 rebounds, and 10 assists. Harden struggled vs. the Bucks averaging barely over 10ppg, but was also playing through a hamstring injury and comes into Tuesday's game healthy.
Brooklyn had the #2 offense in the league last season putting up 118.6 ppg, and were tops in the NBA with a 49.4 field goal percentage. That was with Durant playing just 35 games and Harden 36 after starting the season with the Rockets. The loss of Irving is buffered a bit with the team signing Patty Mills in the offseason. Rookie Cam Thomas could also prove to be a steal at #27 after he averaged 23 ppg last year at LSU.
Bucks Too Distracted Here?
Raising the banner and getting championship rings could prove to be a distraction on Tuesday for the Bucks. It is going to be an exciting atmosphere at Fiserv Forum, but Brooklyn watching this ceremony after getting eliminated by Milwaukee last season has to be stinging for the Nets.
It's a really short turnaround for the Bucks who finished off the Suns in game 6 on July 20th. That's not a lot of downtime for Milwaukee while Khris Middleton and Jrue Holiday had an even shorter offseason after playing in the Tokyo Olympics, picking up a gold medal to go along with their NBA championship rings.
Giannis Antetokounmpo is probable for Tuesday, still dealing with repercussions of his hyperextended knee back in the Eastern Conference Finals. The two time MVP still had 50 points in the close out game against the Suns last season so he's ready to go to work in the opener. The Bucks will be without Donte DiVincenzo (foot), Rodney Hood (foot), and Bobby Portis (hamstring).
October 19th Nets at Bucks Pick
There's a lot going on for the Bucks in this spot, raising the banner and having all the distractions that come with that. The Nets are without Irving, but that just means more usage for Durant and Harden, and with a couple key injuries the Bucks are facing Brooklyn still looks to have the more depth of the two teams.
Brooklyn 122 – Milwaukee 108
Free Pick: Nets +1.5