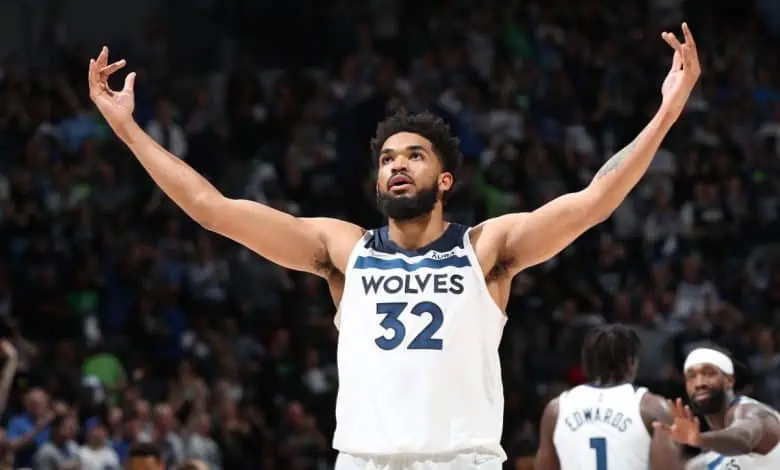 Just when you think Minnesota is done for, they rally and have tied their Western Conference 1st round playoff series at 2-2 heading into the Timberwolves at Grizzlies game 5 betting clash. The T'Wolves could actually be somewhat disappointed in this series being only 2-2, as they held two different 20+ point leads in Game 3 before losing 104-95.
Memphis is back at home, trying to find some consistency as the #2 seed in the Western Conference and finding themselves in a battle with Minnesota who had to win in the play-in tournament just to get here. The Grizzlies are a -6 point favorite at the FedExForum for Tuesday's matchup, a place they are 31-12 at this season. A slight 58% of betters are backing Memphis and the points.
Quite the Up and Down Series
Forrest Gump would love this series because you never know what you're going to get heading into the Timberwolves at Grizzlies game 5 betting matchup. Minnesota put their foot down and said they were here to play with a 130-117 win in Game 1, but then proceeded to get blown out 124-96 in Game 2. Memphis didn't seem fazed with two huge comebacks in Game 3 to get a 104-95 win, but couldn't build on that momentum in losing 119-118 on Saturday.
It goes without saying that if Karl-Anthony Towns shows up on Tuesday, the T'Wolves chances of winning greatly improve. KAT blew up for 33 points and 14 rebounds in Game 4, but was also held to 11 ppg the previous two.
Even with Towns' big game over the weekend, Minnesota showed some nice depth with Anthony Edwards scoring 24 on 50% shooting and Jordan McLaughlin providing a spark going 4-4 from three off the bench. That helped make up for D'Angelo Russell's struggles continuing as he's averaging just 13.3 ppg this series.
What is Memphis' Psyche?
It's hard to know how the Grizzlies are feeling heading back to their own court on Tuesday. You would think Memphis multiple 20+ point comebacks in Game 3 would have demoralized Minnesota, but the Grizzlies were unable to put them away in Saturday's 1-point loss.
Now Memphis returns back home where they lost by 13 and won by 28 in the first two games this series. The Grizzlies could get an edge if the officiating is a little more friendly back in front of their own fans like it was when Ja Morant shot 20 free throws in Game 1. Morant has scored progressively fewer points since that 32-point outburst in the series opener, tallying 23, 16, and 11 the last three although he's still averaging almost 12 assists and 9 rebounds over that span.
Desmond Bane picked up the slack on Saturday hitting 8 of 12 three pointers en route to 34 points, but can you rely on another performance like that? Dillon Brooks also added 24, hitting 10-20 shots.
Timberwolves at Grizzlies Game 5 Betting Pick
Even heading into game 5 of the series there are still more questions than answers facing both of these two teams. After Towns' big outing over the weekend has Minnesota finally figured out how to attack Memphis' smaller lineup after big man Steven Adams has been relegated to the bench? Has Patrick Beverley's defense frustrated Morant, and could the Grizzlies be in trouble if the likes of Bane and Brooks aren't hitting their shots?
It seems like every time you trust a team in this series, it goes the other way. Minnesota comes back with momentum and getting points, which must mean the Grizzlies step up for a dominant win.
Free Pick: Memphis -6