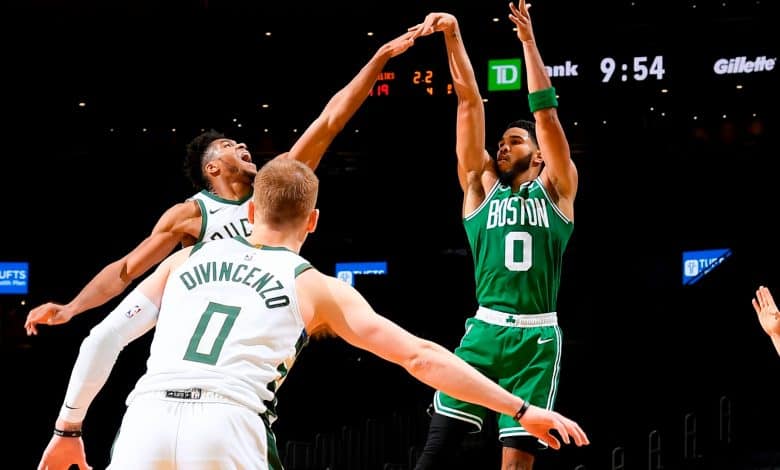 The Bucks at Celtics game 1 betting matchup is a huge one because the winner of this series has to be looked at as the favorite to represent the Eastern Conference in the NBA Finals with all due respect to Miami and the 76ers. Both Milwaukee and Boston are rolling though, and getting out of the gate with momentum on Sunday is key.
The Bucks just finished up a relatively easy 4-1 series sweep over the Bulls, winning each of their last three games by at least 16 points. The Celtics put Brooklyn out of their misery with a 1st round sweep and have been resting idle since Monday. Both of these squads finished 51-31 on the year, so this one looks very evenly matched, but Boston is a -5 point favorite in the opener.
Still No Middleton for Milwaukee
While these teams do look very evenly matched on paper, the Bucks took a big blow when Khris Middleton went down with an MCL sprain in Game 2 of the Bulls series. The all-star averaged 20.1/5.4/5.4 on the season and seasoned veteran presence that would have played a key component in this series opening road tilt.
Milwaukee still plowed through Chicago even after Middleton went down, but how much of that had to do with the Bulls just being overmatched and also missing Zach LaVine and Alex Caruso in the decisive Game 5? You have to give credit where credit is due though, and Grayson Allen was huge hitting 11-14 three-pointers in the two games at the United Center and Jrue Holiday had a +/- of +67 over the last three matchups of the series.
Giannis Antetokounmpo averaged 28.6 points and 13.4 rebounds in the Bulls series, numbers that actually could have been higher if the last few games were closer. He put up 28.3 points and 10.3 rebounds in three games vs. Boston this season. The Bucks and Celtics split their 4-game regular season set, with each team winning two on their own court.
Boston Rested and Ready
One important thing that the first round sweep of the Nets did is provide Boston with a lot of rest as they've been off since last Monday. Of course you don't want to get rusty especially when in such a groove, but that Celtics defense with a full tank of gas is downright scary.
Another thing that having nearly a week off has done is allow Jaylen Brown more time to rest his hamstring. He dealt with some tightness late in Game 4 against Brooklyn but has been able to get treatment the past six days and is "ready to roll."
Jayson Tatum did a number defensively on Kevin Durant in the first series, so much so that it almost took away with how good he was offensively. Tatum averaged 29.5 points vs. Brooklyn even while exerting a lot of pressure on the defensive end – something he'll likely have to do against Antetokounmpo and Milwaukee as well.
Free Bucks at Celtics Game 1 Betting Pick
A slight roughly 53% of the betting public likes Boston giving the -5. If Milwaukee had Middleton that might look like a gift line, but we will see the effects of his absence against a higher quality team this series. The Bucks are a bit bigger than the Nets, but that might actually play into a Celtics strength especially now that Robert Williams is back in the rotation.
Free Pick: Celtics -5