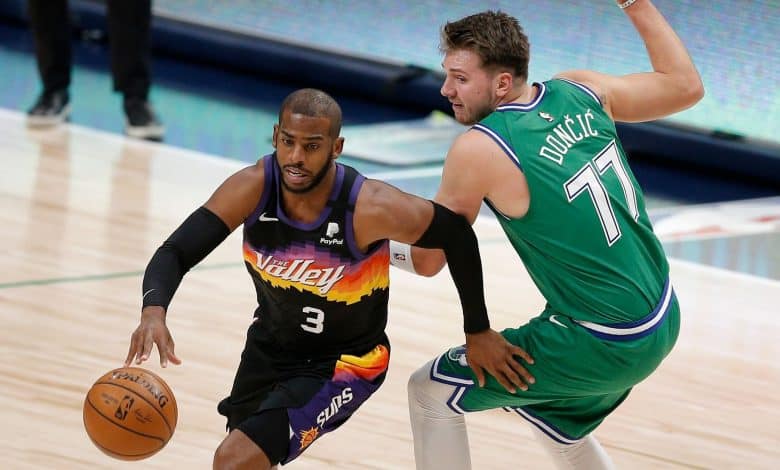 The #1 seed is on the ropes heading into the Mavericks at Suns game 7 betting matchup. Dallas has tied up the series 3-3 with a 27-point win in Game 6, a contest that Phoenix looked like they were letting the Mavericks have in preparation for Sunday's return to the Footprint Center.
The Suns definitely have value on Sunday as the home team has won every game this series. Phoenix has won their home games by 7, 20, and 30 points so being a -6.5 favorite for the Game 7 matchup seems like a fair number – if not on the low side. About 54% of the betting public likes the Suns to cover that number and move on to face the Golden State Warriors in a highly anticipated Western Conference Finals matchup.
No Pressure for Dallas
By far more pressure is on Phoenix in the Mavericks at Suns Game 7 betting matchup. Dallas was the #4 seed in the Western Conference while Phoenix led the entire NBA with 64 wins on the season – and the Suns went to the 2021 NBA Finals where they lost to the Bucks in 6 games.
The Mavs can go into this game carefree, but at the same time they have a great opportunity ahead of them in an elimination game. The only problem with that is that Dallas has looked bad at the Footprint Center his series, dropping Game 1 121-114 (+6.5) but then absolutely getting blown out 129-109 (+6) and 110-80 (+7) in Games 2 and 5 respectively.
It's not groundbreaking news that Luka Doncic will be the player to watch for the Mavericks on Sunday night. He had 33/11/8 to fuel the Game 6 win on Friday night and is averaging 32.2/9.8/7.5 for the series. Obviously the Mavs would take a big game from Jalen Brunson too, as he's gone for 21+ in 2 of the last 4. Dorian Finney-Smith had 24 fueled by 8-12 three point shooting in Game 4.
Suns to Dominate at Home?
Chris Paul is glad to be out of Dallas for a variety of reasons, which includes his play. Paul had 7 turnovers in the first half of Game 3, fouled out in Game 4, and had 13 points on just 4-7 shooting on Friday night. Paul averaged 23.5 points in the first two games of the series at home.
Phoenix got another big game from Deandre Ayton in Game 6 but it came in a losing effort. Ayton had 21 points and 11 rebounds, the third time in the last four games he's posted double digits. The big man also had 25 points in the series opener so a big production night would definitely help the Suns chances at a closeout.
The other main Phoenix player to watch is Devin Booker, who had just 19 points on Friday night. Booker had 28 in Game 5 back at home and 35 in Game 4 in Dallas so he will be launching with the season on the line.
Free Mavericks at Suns Game 7 Betting Pick
Dallas has held their own this series, but they may be a bit overmatched on Sunday night in front of a rowdy crowd. Paul knows the importance of this game and with Booker and Ayton contributing as well it should be an easy Phoenix victory.
Free Pick: Suns -6.5