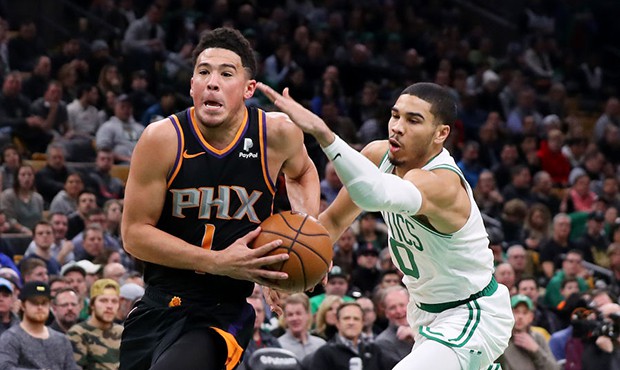 Boston has had some success out West coming into the February 7th Celtics at Suns pick but things don't get any easier with a trip to Phoenix. The C's have beaten Golden State and the Clippers during this 4-game run, but also fell 116-111 to Sacramento on the back-to-back.
The Suns are trying to find some consistency as they are just 5-5 over their last 10 and only 5-4 at home on the year. Phoenix is still a -2.5 favorite in this matchup, mainly due to the fact that Boston will be without Jaylen Brown who is sitting with knee soreness. Will fatigue set in for the Celtics, who still have a visit to Utah on their trip, or does Phoenix slip up?
Boston on a Nice Run
The Celtics were finally back to close to full strength for a couple games after Kemba Walker made his season debut on January 17th. That lasted a whole six games before Marcus Smart was lost until late February with a calf injury and now Brown sits in the February 7th Celtics at Suns pick.
The loss of Brown is definitely a significant one, especially with Boston already shorthanded in the back court. Brown had gone for at least 21 points in 9 of the last 10, but the Celtics still have plenty of firepower. Jayson Tatum had 34 in the win over the Clippers with Walker adding a season high 24.
Second year player Carsen Edwards saw his most extended playing time of the season vs. L.A. and responded with 16 points, 4 rebounds, and 2 assists. One would think the Boston offense still might come up a bit short on Sunday, as the Suns have the #5 defense in the NBA, holding 5 of the last 6 opponents to 108 points or less. The betting total for this matchup is 216, down from a 219.5 open.
Suns Getting in a Groove Too
Phoenix has had one hiccup in the last 10 days, falling 123-101 at New Orleans as -2.5 favorites. What do you do when New Orleans hits 51% from the field and 42% from beyond the arc though? Other than that the Suns have posted wins over Golden State (114-93), two over Dallas (111-105 and 109-108), and the Pistons (109-92) on Friday.
The Suns' calling card is their defense, but the offense can have a big day vs. a Boston defense missing their best defender in Smart and another key back court component in Brown. The C's have allowed 115+ points in two consecutive games.
Boston being thin in the back court plays into the Suns' strength as well. Devin Booker has hit for 23+ in the last five games he's played and Chris Paul has picked up his scoring with 20+ in 5 of the last 7. Deandre Ayton is still a force on the inside too with a double-double in 8 of his last 10.
Free February 7th Celtics at Suns Pick
Boston is a talented team that can handle the loss of either Smart or Brown, but when they're both out that's tough especially against a team with as talented of a back court as Phoenix. The C's rank 20th defensively vs. the C position as well, so the Suns will have the inside-out game going on Sunday.
Phoenix 114 – Boston 108
Free Pick: Suns -2.5