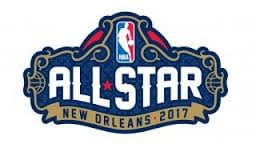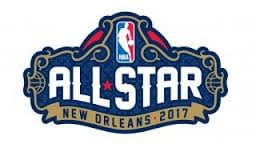 The NBA has kept the All-Star game relatively simple. It's the Western Conference playing the Eastern Conference at 8 p.m. Sunday night. The NBA All-Star Weekend is being held in New Orleans. Last year, the West beat the East 196-173 and the MVP was Russell Westbrook. Our NBA All-Star game free pick has the West favored by six points and the over/under at 349.5. Yes, that is the over/under right now, which opened at 250. The original totals odds were a deal, and considering how little defense there will be, 349.5 may also be a deal.
East and West Rosters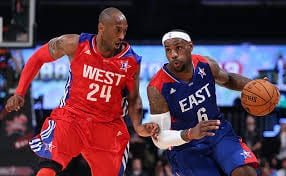 The teams include six starters and eight reserves. You can expect everyone to play in what should be a fast-paced game. Here are the starters and reserves for the East and West All-Stars.
Eastern Conference
Starters:
Kyrie Irving PG / Cleveland Cavaliers
DeMar DeRozan SG / Toronto Raptors
LeBron James SF / Cleveland Cavaliers
Giannis Antetokounmpo SF / Milwaukee Bucks
Jimmy Butler SF / Chicago Bulls
Reserves:
Isaiah Thomas PG / Boston Celtics
John Wall PG / Washington Wizards
Kevin Love PF / Cleveland Cavaliers (*Injured – Not playing)
Kyle Lowry PG / Toronto Raptors
Paul George SF / Indiana Pacers
Kemba Walker PG / Charlotte Hornets
Paul Millsap PF / Atlanta Hawks
Carmelo Anthony SF / New York Knicks (*Injury replacement for Kevin Love)
Western Conference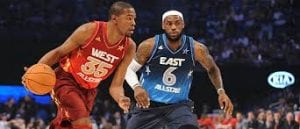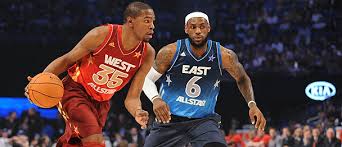 Stephen Curry PG / Golden St. Warriors
James Harden SG / Houston Rockets
Kevin Durant SF / Golden St. Warriors
Kawhi Leonard SF / San Antonio Spurs
Anthony Davis PF / New Orleans Pelicans
Reserves:

Russell Westbrook PG / Oklahoma City Thunder
Klay Thompson SG / Golden St. Warriors
Draymond Green PF / Golden St. Warriors
DeMarcus Cousins PF / Sacramento Kings
Marc Gasol C / Memphis Grizzlies
DeAndre Jordan C / L.A. Clippers Clippers
Gordon Hayward SF / Utah Jazz
Our NBA All-Star Game Free Pick
From 2006 through 2015, the average totals for the NBA All-Star game was 260.4. Last year's 369 totals was unusual. The highest totals up to that point was 321 in 2015. They also barely broke 300 in 2012 and 2014. The total last year was 369. Taking the totals from the last five years, which average 318, it's still hard to imagine tomorrow's game topping 349 points. We are taking the under on this one.
Our NBA All-Star game free pick is the West at -6.0. And for MVP, we are going with James Harden of the Houston Rockets. The NBA regular season schedule will start again on Thursday, Feb. 23 with six games. The 2017 NBA All-Star game will be played at 8 p.m. ET on Sunday, Feb. 19.
Our NBA All-Star Game Free Pick: Under 349 points and the West at -6.0