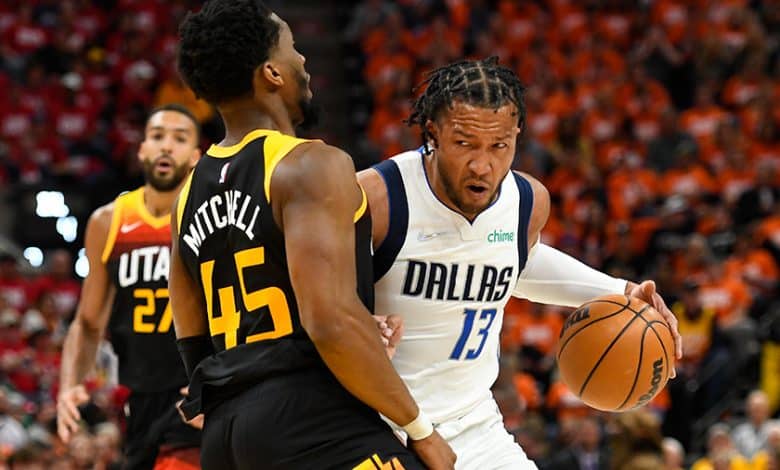 Oddsmakers have adjusted their lines slightly ahead of Saturday night's Mavericks at Jazz game 4 betting matchup after Dallas won 126-118 in Salt Lake City on Thursday as +8.5 underdogs. The Mavs have regained home court advantage, and are down to +5.5 on the heels of 'increasing optimism' that Luka Doncic makes his 2022 postseason debut following a calf injury.
The Jazz snagged Game 1, 99-93 in Dallas as -5.5 favorites but have been reeling ever since. The 110-104 Utah loss in Game 2 was understandable, but Quin Snyder's squad losing 126-118 on Thursday is borderline unacceptable. The Jazz could find themselves in trouble on Saturday night especially if Doncic is back on the floor.
Dallas Chemistry On Point
Anybody would take Doncic back in the lineup as he's averaged 28/9/9 this year, but the Mavericks have fared well without him as well. The rumor is that Doncic will be cleared to play in the Mavericks at Jazz game 4 betting matchup, but is there a chance that actually hurts Dallas?
Jalen Brunson has thrived in the 1A role, scoring 36 ppg the last two. Brunson is averaging 32 ppg on 50.7% shooting with 5.3 rpg and 5.3 apg on top of that. Maxi Kleber has come off the bench to be a long range sniper as well, hitting 12 of 16 three point attempts the last two games.
Dallas players like Kleber and Spencer Dinwiddie are comfortable with their roles so far this series, does the return of Doncic tarnish that? Doncic will put up the numbers offensively, but is he a defensive liability if not completely healthy? Utah's starting backcourt scored 53 points in Game 3.
How Do Jazz Win, Let Alone Cover?
Nobody can blame Donovan Mitchell for the 1-2 deficit Utah is facing heading into the Mavericks at Jazz game 4 betting matchup. Mitchell is averaging 32.7 ppg so far this series, going for 32, 34, and 32 in the first three matchups so far and also scored 33 points in both regular season home games vs. the Mavericks this season.
With Mitchell's production through the first three games, it would be easy to blame the rest of the Utah roster for not stepping up but that hasn't been the case either. Bojan Bogdanovic had 25.5 ppg in the first two contests in Dallas and put up 24 back at home on Thursday. Mike Conley had been quiet in the series, but tallied 21 in Game 3.
Even big man Rudy Gobert was productive on the boards in Games 1 and 2 grabbing 17 rebounds in each. He only had 6.5 ppg in those tilts, and once Gobert's scoring increased in Game 3 (15), his rebounding went down (7). The Jazz need a balanced game out of their 7-footer.
Free Mavericks at Jazz Game 4 Betting Pick
The players on both sides are doing their part, but Dallas has had a big coaching advantage in this series. The Mavericks barely ran an offensive play in the 4th quarter of Game 3, just did isolation on the matchup of their choosing. Obviously Utah will make some adjustments ahead of Saturday night's matchup, but that just leaves them playing catch-up. Unless Doncic completely blows up this chemistry, Dallas looks like the play.
Free Pick: Mavericks +5.5