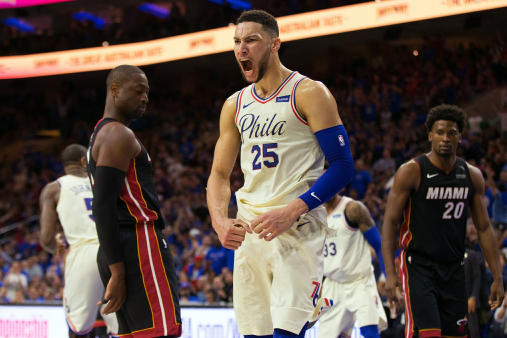 People are believing in the process after Philadelphia routed Miami 130-103 in game one on Saturday. This was a big win even as the 76ers were without Joel Embiid, who will also miss the 4/16 NBA free pick. Game one was a lot closer than the final score indicated, especially considering Miami rushed out to a 35-29 1st quarter lead and were still up 4 at the half. Can Miami put things together in the 2nd half on Monday or is the raucous Philadelphia crowd too much for the Heat to handle?
How Can Miami Even Up the Series?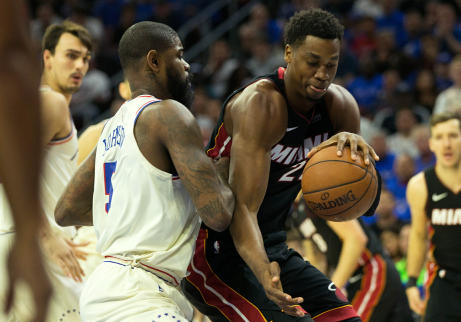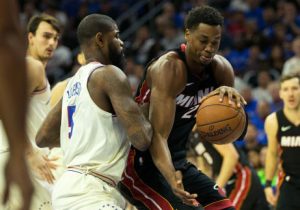 Believe it or not Kelly Olynyk was the major bright spot for Miami in game one, going for 26 points against the Embiid-less Sixers. Dwyane Wade contributed 11 off the bench but Heat F Josh Richardson was an abysmal -30 for his time on the court. Everybody is going to have to be a bit better on Monday night, including Goran Dragic who had just 15 points and Hassan Whiteside who logged just 12 minutes as he battled foul trouble. Whiteside's absence is a major reason Miami was outscored 46-36 in the paint and were outrebounded 50-41. If the big man can stay in the game for the 4/16 NBA free pick, Miami might be able to go 1-1 heading back home.
The Heat do have the confidence of going 2-2 against Philadelphia this year including wins in two in a row. Miami scored a 108-99 win on March 6th and a 102-101 victory on February 27th. It should be noted that both of those contests were in South Beach. The 76ers won both of the meetings at home, 104-102 and 103-97. Whiteside had 26 points and 8 boards in one of the wins and 15 and 11 in the other so his contribution is mandatory for a win on Monday.
Sixers Look Like Legitimate Title Contenders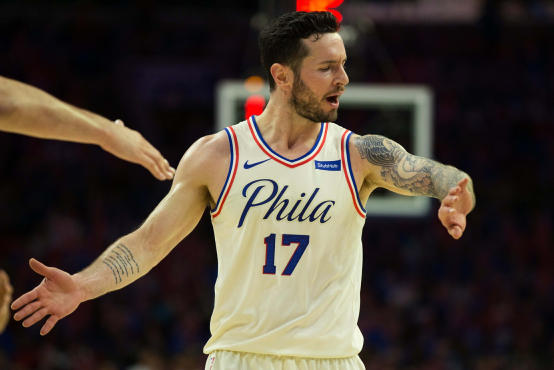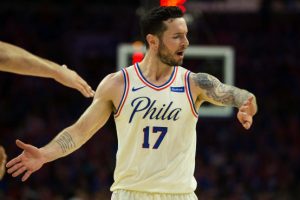 Philadelphia has now won 17 games in a row and are 24-2 at home since Christmas. The Sixers showed great depth on Saturday as JJ Redick put up 28 points while Marco Belinelli chipped in 25 off the bench. Ersan Ilyasova picked up the slack in Embiid's absence with 17 points and 14 rebounds. Dario Saric went for 20 and Ben Simmons had 17 points and 14 assists. Is there any way Miami can counter this type of productivity in the 4/15 NBA free pick?
It's not hard to see how Philly has went on this remarkable run. They had a top 10 scoring offense during the regular season as well as the league's top defense in terms of opponents field goal percentage. Oddsmakers are expecting another high scoring affair as they've set Monday night's total at 216. The Sixers should get theirs on  offense, but can you count on the Heat to follow suit? Miami did have a top 5 defense in points/game but were just 23rd in scoring in the regular season.
4/16 NBA Free Pick Betting
Oddsmakers have set Philadelphia as -6.5 favorites, which is just a point higher than the -5.5 they saw in the game 1 blowout. Miami's Erik Spoelstra is a coach who has been here before, but Philly is playing some remarkable ball for the last couple months really. Bettors are loading up on Philadelphia to the tune of nearly 80%. This is a game that seems almost too easy. Whiteside should be improved, the 76ers shooting will cool off, and the crafty veteran Dwyane Wade will likely be the X-factor in this contest. Miami might not tie the series, but they'll play much better tonight.
Free Pick: Miami Heat +6.5