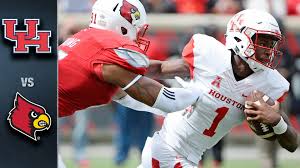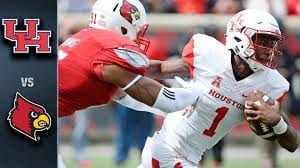 In our week 12 NCAA Football free pick Louisville plays Houston in a game that is huge for the Cardinals. The skinny on this game is that the Louisville Cardinals (9-1, 7-1 ACC), with two games remaining, have a viable chance at being one of the four elite college football teams that has a shot at the national championship. The Houston Cougars (7-2, 5-2 AAC), who started the 2016 college football season with so much promise, are now relegated to the role of spoilers and to one of numerous lower bowl games.
The one loss that Louisville suffered this season was to the Clemson Tigers 42-36. That was the fifth game of the season. Since then, they have beaten Duke (24-14), NC State 54-13), University of Virginia (32-25), Boston College (52-7) and Wake Forest (44-12). Earlier in the season, the Cardinals took down #2 FSU 60-20. They are in first place in the ACC.
Houston, which sits in second place in the AAC West, has two losses. One loss was to the top team in the division, Navy, by a score of 46-40. That was five weeks ago. The other loss occurred three weeks ago and it was to SMU 38-16. In the last two weeks, they've beat University of Central Florida (31-24) and Tulane (30-18).
Louisville Cardinals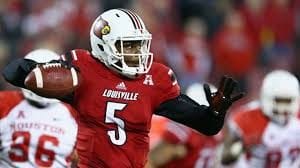 The Cardinals major offensive force is Heisman Trophy candidate Lamar Jackson. Jackson is a dual threat as a passer and runner. In the air, he's completing 56.8% of his passes. He has 27 touchdown passes, and he's tossed just six INTs. On the ground, he has 19 TDs on 18 carries. Jackson has gained a total of 1334 yards while averaging 7.3 YPC. It should be noted that last year the Cougars shutdown Jackson. But that's when he was a freshman playing in his second college game.
There are plenty of guys to throw to on Louisville. Three receivers have six TDs each and three have 30+ catches each. James Quick is the top pass-catcher on the team with 36 receptions and six scores. He has a total of 608 yards and is averaging 16.9 YPC. By the way, along with Jackson, the Cardinals have three other backs who are averaging 7.0-plus yards per carry.
Louisville is totaling 583.2 yards per game offensively, while keeping opponents to 285.2 yards. They average 313.2 yards in passing and 270 in the air. They've been good for 46.2 PPG and have held teams to 20.3.
Houston Cougars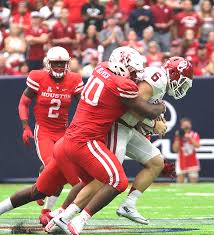 Houston QB Gregg Ward (68.5 COMP%, 16 TDs, 8 INTs) is a solid performer, especially when it comes to passing. WR Steven Dunbar has caught five TD passes, while WR Linell Bonner with 68 receptions and 774 yards is a premium performer. On the ground, Ward has 144 attempts for 429 yards and nine TDs. He's averaging 3.0 YPA. Dillon Birden leads the team in average yards per carry with 4.7. But unlike Louisville, the Cougars don't have an overly dynamic player like Jackson, nor do they offer as much depth the Cardinals.
On defense, the Cougars have a truly outstanding defensive tackle named Ed Oliver. Oliver has 16.5 TFL and is on one of the best sacking teams in the nation. They're holding opponents to 21.3 PPG and 92.8 ground yards per game. Opponents are doing well in the air when they play Houston, averaging 303.3 YPG. The Cougars are scoring 37.6 PPG.
Week 12 NCAA Football Free Pick Louisville Plays Houston
In our week 12 NCAA Football free pick Louisville plays Houston and the game looks to be exciting. We are taking the Cardinals at -13.5. We expect Jackson to have a big game and avenge last year's loss where he gave up the ball numerous times.
Week 12 NCAA Football Free Pick Louisville Plays Houston: Bet Louisville at -13.5