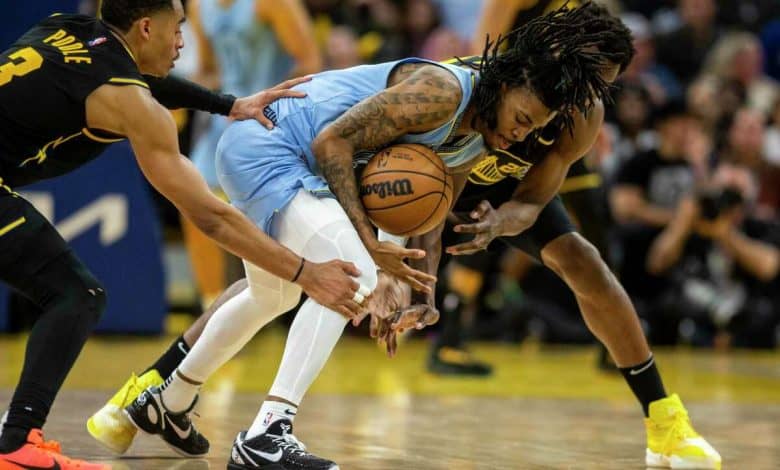 The Grizzlies at Warriors game 4 betting matchup takes on a new tune as it looks like Ja Morant will miss this game due to his knee injury (list as doubtful). Morant describe the collision with Jordan Poole as "breaking the code" as Golden State went on to a 142-112 win on Saturday.
Poole was able to avoid a suspension and now Golden State is at a huge advantage as they try to get a win to push this series to 3-1 in their favor. Memphis is 20-5 without Morant this season, yet oddsmakers still have the Warriors up as whopping -10.5 favorites in Game 4. 67% of the public is backing Golden State even giving double digits.
Grizzlies Have Been Here
Morant had been on a  roll this series, scoring 34, 47, and 34 points in the first three games but that still has Memphis down 2-1. Most teams losing the face of their franchise in the semifinals would be done for, but the Grizzlies have played 25 games without Morant this season, going 20-5.
There's a lot of usage opening up with Morant and his 28 fga per game average out of the lineup. Maybe that will help Desmond Bane break out of his funk, as he's averaging just 10 ppg vs. the Warriors after scoring 23+ in the last four games against Minnesota in the first round.
Memphis gets much more of a team effort when Morant is out of the lineup. Bane doesn't even lead the team in scoring without the PG, as Dillon Brooks averaged 19.1 ppg in 20 games without Morant – plus Brooks is well rested after serving a suspension in Game 3. Jaren Jackson, Jr. (18.5), De'Anthony Melton (13.8), Tyus Jones (12.7), and Brandon Clarke (11.5) all put up double digits in points when Morant is out of the lineup.
Warriors Try to Repeat
Golden State was clicking on Saturday night, shooting 63% from the floor and 17-32 from three point range en route to the 30-point victory. That puts the series at 2-1 and Golden State has held on to home court thanks to the 117-116 win in the opener and despite a 106-101 defeat in Game 2.
Steve Kerr will have Poole in the lineup for the Grizzlies at Warriors Game 4 betting matchup which is huge, as he's been very productive this series. Poole had 31 in Game 1 and 20 in Game 2 on the road an another 27 on a red hot 11-17 shooting back home on Saturday.
The Warriors also have a couple other guys that are helping Poole get so many good looks. Steph Curry has averaged 27 ppg this series and Klay Thompson had his best game of the series on Saturday hitting 8-13 shots on his way to 21 points.
Free Grizzlies at Warriors Game 4 Betting Pick
The Warriors had a dominant 30-point win on Saturday night but can they pull off that type of blowout again? Morant has been very productive this series so his scoring will be missed, but there's also a chance that the Grizzlies are more efficient without him. As long as Golden State doesn't shoot 60+ percent from the floor again on Monday Memphis should very much be able to keep this one within the +10.5
Free Pick: Memphis Grizzlies +10.5