Free Expert Sports Picks
NBA Picks
NBA Monday February 7th Suns at Bulls Betting Preview
Two of the Top Teams in Their Respective Conferences Meet Up at the United Center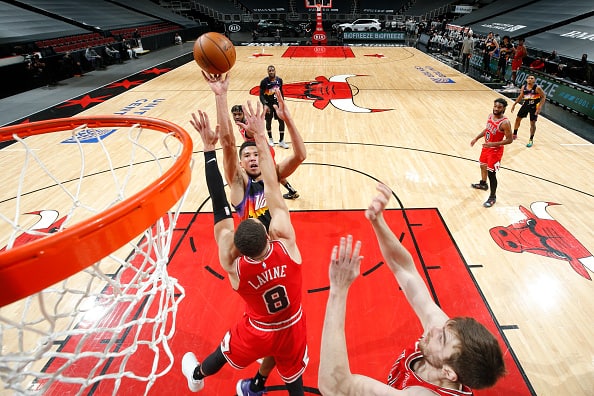 Will fatigue finally catch up to Chicago in the February 7th Suns at Bulls betting matchup? Billy Donovan's squad has had games on Thursday, Friday,, and Sunday and now play their 4th contest in the last five nights and against the #1 team in the West the Suns.
Phoenix on the other hand is well rested, rolling over Washington 95-80 on Saturday, allowing Monty Williams to relax his player's minutes a bit. The Suns have won 12 of their last 13, while the Bulls have dropped two of the last three. It's not hard to see why Phoenix is a -8 point favorite for Monday night's game.
Suns Continue to Roll
Phoenix has managed to keep a 2.5 game lead in the West even though the Warriors are seemingly just as hot with an 8 game win streak. The Suns did show they are not invincible though, falling 124-115 at Atlanta on Thursday as a -3 point favorite. That was still their first loss following an 11-game win streak so things are still looking pretty solid.
Chris Paul has continued his strong play by averaging 12.5 assists/game over his last 10 outings. The Bulls are getting rocked by opposing PGs lately too with Fred VanVleet having 21 points and 9 assists on Thursday, with Caris LeVert following that up with 42 points on Friday, and Tyrese Maxey shooting 6-9 in the Sixers' 119-108 win over Chicago on Sunday.
For as good as Paul and Devin Booker can be in the back court, look for a good game from Deandre Ayton in the February 7th Suns at Bulls betting matchup. That's because Chicago had no answer for Joel Embiid (40 points, 10 rebounds) on Sunday. Starting centers have grabbed 37 rebounds against the Bulls the last three games and Ayton is coming off a 20 point, 16 rebound performance in 23 minutes Saturday vs. the Wizards.
Chicago Too Gassed?
Back to back back to back's are hard to pull off in the NBA, especially for a team like the Bulls who are fighting through injuries to Lonzo Ball (knee) and Alex Caruso (wrist) among others. Zach LaVine (24.6 ppg) has also missed the last two contests with back spasms and is questionable for Monday's visit from Phoenix.
The good news for the Bulls is that they still have DeMar DeRozan who is fresh off a 45 point performance on Sunday against the Sixers. The bad news is that he also played 41 minutes. DeRozan also logged 44 minutes in Thursday's loss to the Raptors and then followed that up with 38 more minutes in a win over the Pacers. That's a lot of usage in a short time span for the 32 year old.
Chicago does have some talent that can ease some of the load off of DeRozan on Monday night. Rookie Ayo Dosunmu has played well on recent back to backs, going for 15 points and 14 assists on Friday as well as 24/8 and 21/10 in two other games in January on 0 days rest.
Free February 7th Suns at Bulls Betting Pick
The Bulls getting +8 points seems like a lot for a team that is at home and just 1/2 a game out of 1st in the Eastern Conference. That being said there's a lot working against Chicago mostly fatigue from playing their fourth game in five nights as well as the fact that LaVine may be out as could Coby White. The Suns are just too good of a team.
Suns 125 – Bulls 105
Free Pick: Suns -8