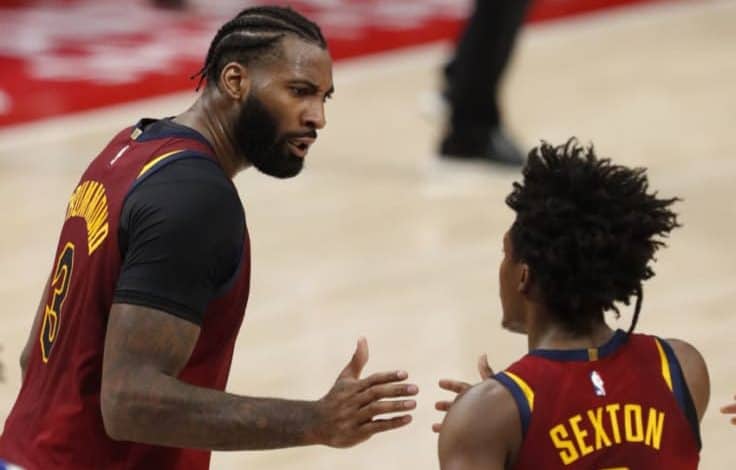 Cleveland hopes a trip back home is good for what ails them heading into the February 1st Timberwolves at Cavs pick. The Cavaliers lost 109-104 in the matchup on Sunday as -3 point favorites. It was the fourth loss in the last five games for Cleveland.
Minnesota likes their chances even as +5 underdogs on Monday night. The T'Wolves were outrebounded 55-34 in Sunday's meeting, and allowed 26 points and 22 boards to Andre Drummond and still scored a 5-point victory. That was in the Twin Cities though, and Minnesota is just 1-7 going away this season.
Can Minnesota Show Improved Post Presence?
Getting dominated by Drummond and Larry Nance, Jr. (16 rebounds) on Sunday was not an anomaly as Minnesota is last in the league defensively vs. the C position and is the 2nd worst rebounding team. Not having Karl-Anthony Towns (wrist) hurts, but the Wolves are also without backup big man Naz Reid (wrist) right now as well.
There are some positive things going on for Minnesota heading into the February 1st Timberwolves at Cavs pick however. Reid is a game time decision, the team has gotten D'Angelo Russell back the last two games, and Anthony Edwards has started to show why he was the #1 pick in the draft this offseason.
Edwards has scored 15+ in four straight games including 23+ in two of the last three. Minnesota also managed their roster well in Sunday's win with nobody logging more than 30 minutes. All that being said, the Wolves have dropped 7 of 8 road games to start the season.
What More Can Cleveland Do?
It's not too often that a team loses despite posting a 20+ rebound margin over their opponent but that's where the Cavs found themselves in Sunday's loss. 19 turnovers certainly didn't help, nor did the fact that Minnesota hit 16 of their 40 three point shots.
Cleveland is hoping that Minnesota cools down a bit when going on the road. Even so, the Cavs shot 49% from the field on Sunday and got the big game from Drummond. They were trading 2 points for three though, shooing just 4-16 from beyond the arc.
Cleveland's offense overall might be a cause for concern. Ever since 147-135 and 125-113 wins over the Nets, the Cavs have been held to 108 points or less in three of four. That includes putting up just 81 points last Friday, albeit against a very good Knicks defense. Collin Sexton has broken 20 points just once in the five games since averaging 33.5 in the two tilts with Brooklyn.
Free February 1st Timberwolves at Cavaliers Pick
Even if Reid plays, the Cavaliers should dominate on the interior once again. Drummond did log 33 minutes on Sunday, but Cleveland also has former Nets big man Jarrett Allen who should see a huge boost after just 15 minutes in the first game.
The Timberwolves should also cool off a bit shooting on the road, while Cleveland shoots 5% better from the field at home. The Cavs are a decent 6-4 on their own floor this year which should ultimately give Cleveland the ability to pull away.
Cleveland 115 – Minnesota 106
Free Pick: Cavs -5.5