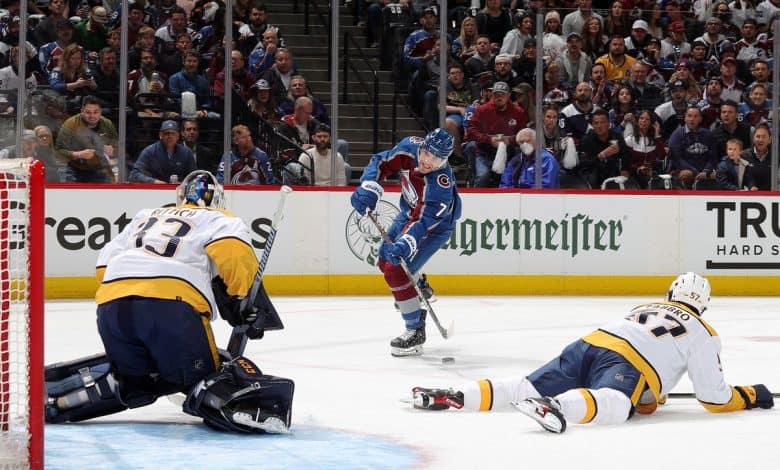 These two hockey teams will be facing each other in Game 2 of the Stanley Cup Playoffs, with puck-drop set for 9:30 p.m. ET on ESPN. The Colorado Avalanche leads this best-of-seven series 1-0 over the Nashville Predators. Colorado dominated Game 1 over Nashville 7-2, and the Avalanche erupted for five goals in the first period.
This is the Western Conference. The Colorado Avalanche head coach is Jared Bednar. Colorado has one of the best offenses in all of hockey. The Avalanche are ready to make a deep playoff run. This postseason, they need to prove it and go all the way.
The Nashville Predators' head coach is John Hynes. Nashville will look to regroup in Game 2 and maybe get a better result. They are missing Juuse Saros big time in net. He is the backbone of this hockey team.
Nashville's overall record against the spread so far this season is 43-39.
Colorado's overall record against the spread so far this season is 40-42.
Nashville Predators Betting Preview: Looking To Bounce Back In Game 2
Matt Duchene scored both goals for the Nashville Predators in Game 1. He scored over 40 goals during the regular season, along with Filip Forsberg. Duchene will need more help in Game 2.
Mikael Granlund recorded two assists in Game 1 for Nashville. He has been one of their more physical players all season long. Roman Josi and Tanner Jeannot need to step up on the backend in Game 2.
David Rittich made eight saves in Game 1 for the Predators. He was pulled in favor of Connor Ingram. Expect Connor Ingram to get the start in net in Game 2 in this series with Juuse Saros still out due to injury for this hockey team.
Colorado Avalanche Betting Preview: Looking To Storm Up 2-0
Nathan MacKinnon scored two goals in Game 1 for the Colorado Avalanche. He also recorded an assist and has made his mark early in this best-of-seven series. MacKinnon is one of the best players in the world and always turns it up a notch.
Cale Makar also scored a goal in Game 1 for Colorado. He also recorded two assists in this hockey game, and his speed on the backend is very elite for a defenseman. Makar might be the second or third most important player on this hockey team right now.
Darcy Kuemper recorded 23 saves in Game 1 for the Avalanche. He looked very sharp for them. Kuemper is projected to be the Game 2 starter for this hockey team.
Nashville Predators vs. Colorado Avalanche Betting Odds & Lines
Bet this hockey game at BetOnline.ag. Colorado will be favored by (-1.5) goals against Nashville. The over/under goals total for this hockey game will be 6.5.
This could potentially be another blowout in-store in Game 2.
Free Betting Pick
The Colorado Avalanche will win Game 2 over the Nashville Predators by a final score of 6-3.
Bet Colorado (-1.5) goals spread against Nashville and also bet the over 6.5 total goals scored in this hockey game between these two teams.