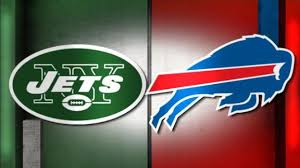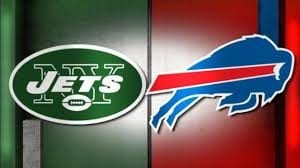 This 2016 NFL week two free pick has the New York Jets (0-1-0) at the Buffalo Bills (0-1-0). At this point this Thursday football game has the Jets favored by anywhere from 1 to 1.5 points. Some sportsbook have the two teams even. Kickoff is set for New Era Field at 8:25 p.m. Both teams are looking for their first win of 2016. Last week, the Jets lost to the Cincinnati Bengals 23-22, while the Bills lost to the Baltimore Ravens 13-7.
New York Offense and Bills D
In week one, the New York offense proved that they could put points on the scoreboard. However, QB Ryan Fitzpatrick could have better served them. He completed just 54.3% of his passes and gave up one interception. Fitzpatrick, who earned a rating of 77.0, threw for 189 yards, averaging 5.40 YPP. RM Matt Forte provided much of the offense running for 96 yards while also picking up 59 yards on five receptions. WRs Quincy Enunwa and Eric Decker each had one TD. Enunwa is day-to-day due to some bruised ribs. If he does not play, he'll be missed. Overall, the Jets' O-line played well.
Last week, the Buffalo Bills defense played a solid game against the Ravens. They notched four sacks and six TFL. They also recovered a Joe Flacco fumble and held the Ravens to under 90 yards rushing. Still, they could not quite hamper the passing game as much as they might have liked. Still, you can't help but think that the Bills' defense played well enough to win. It was their offense that did not come through.
Buffalo Offense and Jets Defense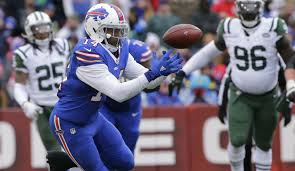 The Buffalo Bills need help on offense and quickly. Their running game was mediocre at best and their pass attack was the worst in the league last week. On ground, they averaged 2.7 YPA, while their air game garnered them just 95 yards. That last number was lowest in the NFL. QB Tyrod Taylor played the short game, averaging just 5.05 YPP. He did not hit for a TD, he tossed no INTs, and he was not sacked at all. Yet, he could not make the long ball work or generate any real offense.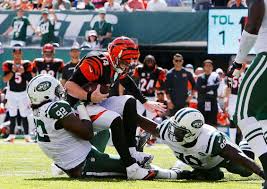 The Jet D will bring pressure. In their game with the Bengals, they had seven sacks and nine TFL, plus one INT. DE Leonard Williams notched six tackles, 2.5 sacks and two TFL, while Muhammad Wilkerson managed to make seven tackles, with five being solo, while sacking the QB 1.5 times and earning one TFL.
2016 NFL Week Two Free Pick
Although in our 2016 NFL week two free pick we like Buffalo's defense, we actually like New York's defense even more. Plus, the Jets have shown a lot more on offense than the Bills. You can get New York at -1.0, which we feel is a good deal. Look for Buffalo's offense to continue to struggle and for New York's D to take advantage of a weak Bills' offensive line.
Our 2016 NFL Week Two Free Pick: New York Jets at -1.0