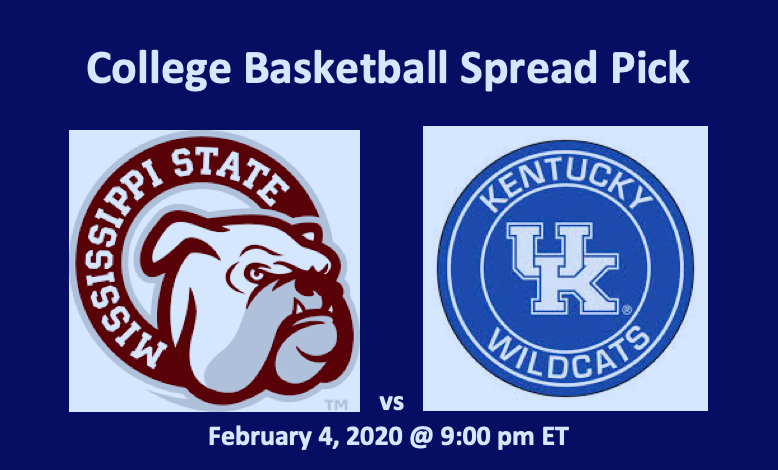 Our Mississippi State vs Kentucky pick has the #15 Wildcats at -6.5. This Mississippi State vs Kentucky prediction notes that the Mississippi State Bulldogs (14-7 Overall, 5-3 SEC) are tied with the Florida Gators and South Carolina Gamecocks for third in the SEC. The Kentucky Wildcats (16-5 Overall, 5-2 SEC) occupy second place in the conference and are one game ahead of the third-place trio. The Wildcats share second with the #11 Auburn Tigers. The #18 LSU Tigers, who are 8-0 in the SEC, are first. Thus, this contest, which will be played on February 4, 2020 at 9:00 pm ET in Rupp Arena, Lexington, KY, is an important one for both teams.
Mississippi State vs Kentucky Pick – Recent Performance
The Mississippi State Bulldogs started the season strong winning their first five contests. Then they met the #17 Villanova Wildcats on November 22. The Cats beat the Dogs 83-76. After that loss, they went 4-5. That string included an 80-68 loss to the #8 Auburn Tigers and a 60-59 loss to the LSU Tigers. Over their last six games, MSST is 5-1. That includes wins in their last two games over Florida and Tennessee.
This season, the Kentucky Wildcats have put together three winning streaks of four or more games. Thus far, they've played five nationally-ranked teams, winning three and losing two. Their last winning streak stretched over four games and ran from January 18 through January 29. Included was a 76-74 OT win against #18 Texas Tech. They last played on February 1 against #17 Auburn. The Tigers beat the Wildcats 75-66.
Bulldogs at Wildcats – Stats
Our Mississippi State vs Kentucky pick notes that statistically these two teams are very close. Both are holding opponents to 65.5 PPG. The Wildcats edge the Bulldogs in scoring 75.0 PPG to 73.6 PPG. Both teams are hitting 46% of their shots and bringing down 38 rebounds. Also, the Bulldogs and Wildcats are each dishing off 14 assists and making five blocks per game. MSST's 5.9 SPG is about one better than Kentucky's. Mississippi State is better from downtown (34.1% to 32.6%). The Wildcats are a bit better from the charity stripe (77.7% to 74.6%).
Player and Roster Assessment
The Mississippi State roster is strong and includes four double-digit scorers. Point guard Nick Weatherspoon, who leads the team with 4.5 APG, is averaging 12.2 PPG. Guard Tyson Carter is good for 13.3 PPG and guard Robert Woodward II, a 51.6% shooter, has been good for 11.9 PPG. Forward Reggie Perry, who also has a 51.6% field goal success rate, leads the team in points with 17.2 per game and rebounds with 10.0 per game.
The Wildcats, who also feature four double-digit shooters, have Nick Richards in the paint. Richards is averaging 14.0 PPG and 8.2 RPG. He's completing 65.9% of his field goal attempts. Point guard Ashton Hagans is a fine playmaker, recording seven assists per game. He's been good for 12.8 PPG. However, he is questionable with an ankle injury. Guard Immanuel Quickley is averaging 14.3 PPG while Tyrese Maxey, also in the backcourt, is recording 13.6 PPG
Our Mississippi State vs Kentucky Pick
Our Mississippi State vs Kentucky pick finds that this matchup looks very close on paper. We can certainly see this game going either way. However, we think that the Bulldogs will control the paint. If they do, that could be the game-changer in a contest that features fine shooters on both sides of the ball. In this game, we're taking the MSST Bulldogs at +6.5.
Mississippi State Bulldogs vs Kentucky Wildcats Prediction – Summary
Mississippi State Bulldogs at +6.5