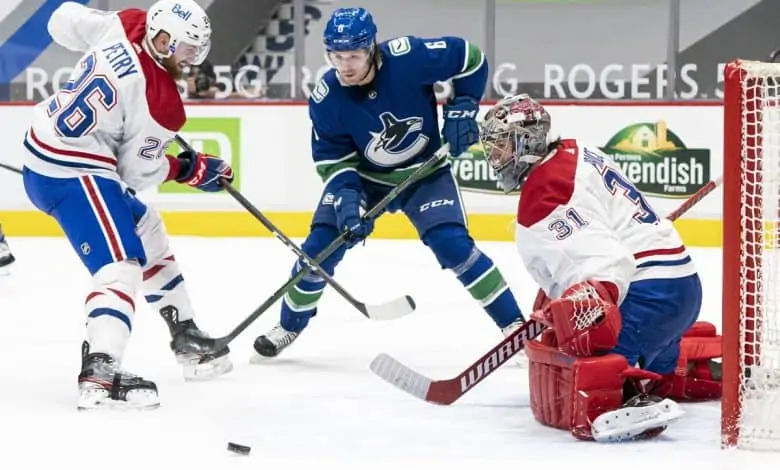 Two North Division foes battling for a playoff spot are in action Monday night when the Vancouver Canucks (11-15-2) host the Montreal Canadiens (11-6-6). Monday's game will be the sixth of nine meetings between the clubs this year. Montreal has won the past four and lost their first meeting in a shootout.
As can be expected, given their standings position and matchup history, Montreal is the favorite at (-157) while the Canucks are (+133). Puck drop is at 10:00 P.M. Eastern.
Montreal Canadiens Preview
The Canadiens are 2-1-2 since firing head coach Claude Julien, but they're starting to acclimate to new coach Dominique Ducharme. Saturday's 7-1 drubbing of the Winnipeg Jets was as dominant of a performance that we've seen from the Habs all season.
Coming into Monday's game, all eyes are on Tyler Toffoli. Toffoli was traded to Vancouver last season but was not re-signed and became a free agent. Since signing with Montreal, he's scored 15 goals and six assists in 23 games. Clearly playing with a chip on his shoulder, Toffoli has eight goals and three assists in five games against the Canucks.
One other player to watch is defenseman Jeff Petry. Petry is tied for second among NHL defensemen with 22 points this season (eight goals, 14 assists). Twelve of his points have come at even strength, compared to nine on the power play, so he's capable of sparking offense whenever he's on the ice.
Montreal has not yet named a starting goalie for Monday night, but it's likely to be Jake Allen. Allen is 4-2-3 this season with a 2.31 GAA, and a .921 save percentage. Two of his four wins have come against Vancouver.
With no players listed on the injury report, Montreal is at full strength entering Monday's contest.
Vancouver Canucks Preview
It's no secret things have gone pear-shaped in Vancouver. The goaltending hasn't been up to par, the defense has taken a massive step backward, and several of the established veterans have underproduced.
Quinn Hughes is tied with Petry in points this season with two goals and 20 assists. While +/- isn't a great stat for evaluating players, on the whole, it can be useful for pointing out the extreme outliers. Hughes has the second-most points among defensemen, but he is also tied for second-worst +/- at an egregious (-16).
Vancouver hasn't announced a starting goaltender for Monday either, but all signs point towards Thatcher Demko getting the call. Demko is 7-9-1 on the year and sports a 2.87 GAA, a .913 save percentage, and a shutout.
Elias Pettersson missed Saturday's game with an upper-body injury and is day-to-day on the injury report. He could return to the lineup tonight, and his presence would be a huge offensive boost for the club. Tyler Motte has begun skating, but there is still no timetable for his return.
The Pick is In
I have way too many concerns about Vancouver's defense and goaltending to feel comfortable picking them. The Canucks allow the fourth-most goals against per game (3.32); just two weeks ago, that number was at 4.00.
Meanwhile, the Canadiens are scoring 3.39 goals per game this season, third-best in the NHL. Accounting for recent history, team strengths and weaknesses, and the potential unavailability of a star player, Montreal is the pick to trust Monday night.
Free Betting Pick: Montreal Canadiens (-157).