Free Expert Sports Picks
MLB Picks
Milwaukee Brewers at Kansas City Royals Betting Preview
The Milwaukee Brewers (21-21, 11-9 away) battle the Kansas City Royals (19-22, 9-12 home) in the final game of a midweek two-game series on Wednesday night.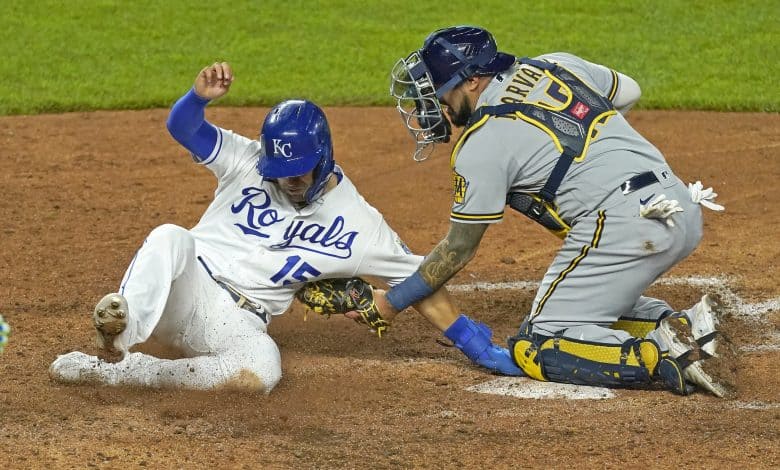 The Milwaukee Brewers (21-21, 11-9 away) battle the Kansas City Royals (19-22, 9-12 home) in the final game of a midweek two-game series on Wednesday night in the MLB. Kansas City took game one, 2-0, after plating two runs in the eighth and pitching a shutout.
Wednesday night's first pitch is at 8:10 p.m. at Kauffman Stadium in Kansas City, Mo. According to oddsmakers, the visitors are favored (-170) in the interleague matchup, and the run total is 7.5.
What to Know – Milwaukee Brewers
Milwaukee finished the month of April with a 16-10 record but has won only five of 16 games this month, including one of its last five. The Brewers sit in third place in the National League Central standings, three games behind the first-place leader.
Hard-throwing righty Corbin Burnes (2-3, 1.57 ERA, 0.64 WHIP) tries to get the Brewers back on track. Burnes has logged 34.1 innings on the mound this season, surrendering six earned runs and punching out an impressive 58 batters. In his last start after coming off the injured list, Burnes went 5.0 innings, allowed one earned run on five hits, and struck out nine.
The Brewers average 3.6 runs per game and bat .212 as a team. 29-year-old Avisail Garcia has had success at the plate, leading the Brewers in batting average (.250), home runs (6), and runs scored (19). Outfielder Christian Yelich was activated off the IL before Tuesday night's contest after playing in just two games since early April while battling injuries.
The Brewers are 6-2 straight up in their last eight games against Kansas City, but only 2-6 in their last eight games on the road.
What to Know – Kansas City Royals
Kansas City suffered a 12-game losing streak during the first part of May but has rebounded to win two of its last four games. The Royals' tough stretch of losses dropped Kansas City third in the American League Central, six games outside the top spot.
On the mound for the host is 25-year old Brad Keller (3-4, 6.75 ERA, 1.86 WHIP). The right-hander has pitched better as of late, carrying a 9.00 ERA into May and lowering it to 6.75 over his last three starts. Keller locked up his third victory of the season in his previous start, firing 5.0 innings, surrendering two earned runs on five hits with a season-high seven strikeouts.
The Royals own a .233 team batting average while scoring 4.0 runs per game. Catcher Salvador Perez continues to be one of the best hitting catchers in baseball. Perez leads all catchers in batting average (.275) and runs driven in (27), and tied for second with nine home runs.
Kansas City is 3-13 over their last 16 games head-to-head, with a 1-7 mark over that same timeframe at home.
The Pick is In
Milwaukee has yet to get it going offensively this season, but the Brewers will have another elite pitcher on the mound looking to secure a victory.
This should be another low-scoring contest, but expect the Brewers to plate three or four runs off Keller and Burns to limit the Royals lineup.
The Pick: Milwaukee Brewers ML